Upskirting row: MP's office targeted in 'pants protest'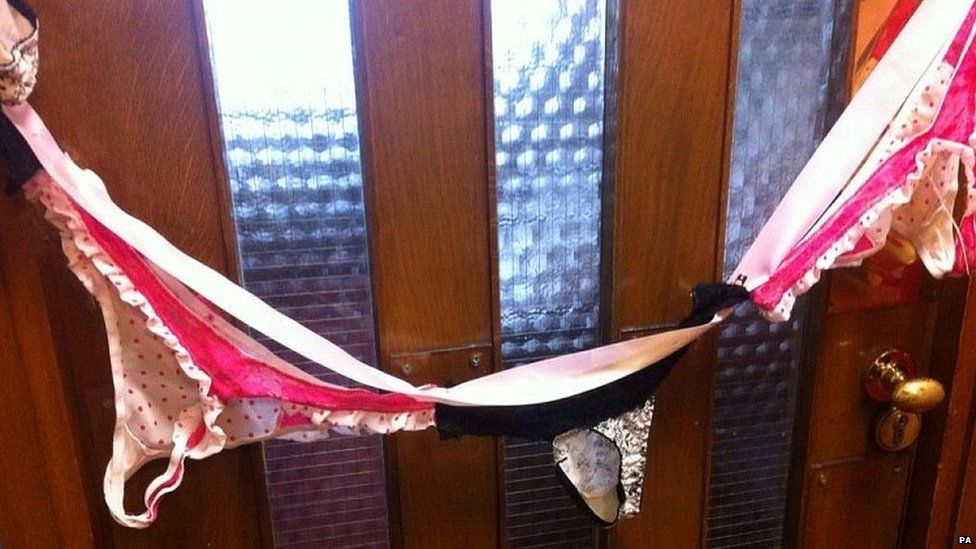 Anger over a Conservative MP's decision to block a bill to make "upskirting" a criminal offence has manifested itself in an unusual way in Parliament.
The entrance to Sir Christopher Chope's Commons office was decorated with women's pants in an apparent protest by Commons staff against his actions.
No 10 has now said the government will now bring forward its own legislation.
The MP told the BBC he was "delighted" by this and suggested he had been "maligned for motives he never had".
Justice minister Lucy Frazer said by promising a bill before the end of July, ministers were sending a clear message that upskirting - the practice of secretly taking a photo up a woman's skirt - would not be tolerated.
Lib Dem Wera Hobhouse, whose own bill was blocked by the Tory MP on Friday, said she was pleased the government had stepped in.
Glad my bill has @theresa_may's backing, and that the law will change. I've applied for an Urgent Question this morning, so hopefully there will be some debate today. Will continue to work cross party to get this through! https://t.co/kte1vJHB3e

— Wera Hobhouse MP (@Wera_Hobhouse) June 18, 2018
And a lawyer for Gina Martin, a victim of upskirting whose campaign helped raise attention to the issue, said it was a "great day not only for women but for all right-thinking individuals and justice itself".
"The gap in the law that existed was an affront to the English criminal law and it is right and proper that the government has decided to act," Ryan Whelan said.
Sir Christopher has insisted he does recognise the seriousness of the offence but believed it was wrong to approve a new law without any real debate - as he suggested could have happened on Friday.
He told BBC South he had achieved his aim of getting the government to legislate, rather than leaving it to a private member's bill, and this would ensure it happened more quickly.
He said Ms Martin "fully understood" why he had objected, adding that he found it "intolerable" that other people have ascribed motives to him that he never had.
"Other people have so cruelly misunderstood what I did," he said, describing the criticism he had received on social media as "a really unpleasant storm".
Sir Christopher has been criticised in the past for effectively stopping private member's bills that would have posthumously pardoned World War Two code-breaker Alan Turing for his 1952 conviction for homosexual activity and scrapped hospital parking charges for carers.
"Any new law needs to be debated," he told LBC. "We don't have legislation by decree - that is what they have in Putin's Russia or Erdogan's Turkey.
"I think it is the moral duty of MPs to stand up for freedom and democracy and not to say just because there seems to be a lot of support for something, it does not need to be questioned."
Mrs Hobhouse's bill was expected to sail through the Commons on Friday, but parliamentary rules mean it required only one MP to shout: "Object," to block its progress.
Private members bills are considered on Fridays, when the Commons is often sparsely attended, and depend on government support to progress.
Senior Tories have made their displeasure known, former Education Secretary Nicky Morgan saying arguments about parliamentary procedure could not be used to "explain away this reputation-damaging episode".
"It proves to everyone beyond the Westminster bubble that the work so many of us are engaged in, and have supported - to bring the Conservative Party into the modern era - remains uncompleted," she wrote.
There is no law specifically naming and banning upskirting in England and Wales - victims and police are currently able to pursue only offences of outraging public decency or as a crime of voyeurism
Upskirting has been an offence in Scotland since 2010, when it was listed under the broadened definition of voyeurism
What are the limitations of the current situation in England and Wales?
Voyeurism applies only to filming actions taking place in private
Outraging public decency usually requires someone to have witnessed the action, but upskirting is often unobserved
Unlike with other sexual offences, people don't have an automatic right to anonymity
What does the new law propose?
As well as carrying a maximum two-year sentence, it would also allow, in the most serious cases, those convicted to be placed on the sex offenders register