Tories chairman Brandon Lewis vows to 'stamp out' Islamophobia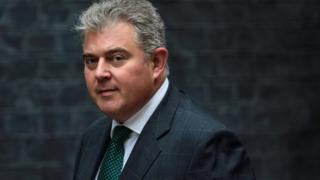 Conservative chairman Brandon Lewis has outlined plans he says will "stamp out" Islamophobia in the party.
He said diversity training would be offered to all members and local associations would report back on how complaints were handled.
He told ConservativeHome the party would work with TellMAMA, which monitors anti-Muslim activity.
The Muslim Council of Britain welcomed the "positive step" but said it fell short of the full inquiry it wants.
Conservative peer Baroness Warsi, who was the first female Muslim cabinet minister, has also called for a full inquiry into alleged Islamophobia in the party.
Mr Lewis announced the new measures "as Muslim families gather today to celebrate Eid al-Fitr, marking the end of Ramadan".
He said it was "utterly unacceptable" that anyone should suffer abuse because of their faith, race, gender, sexuality or disability.
"That is why I believe discrimination of any kind has no place within the Conservative Party," Mr Lewis said.
"A single case of abuse is one too many, and since becoming chairman I have taken a zero-tolerance approach."
He said there was already a "clear and fully transparent process for investigating complaints" and the party had "immediately suspended members and launched investigations" where complaints had been made.
"But we should always be looking to do more to stamp out anti-Muslim abuse or discrimination of any kind"
He outlined a series of measures:
Getting the party to work with TellMama to support local associations with advice and guidance on dealing with abuse "robustly"
Diversity training to be made available for all members and association officers
Reminding local associations of expected standards of behaviour and the need to promote tolerance
Asking local associations to report back about how they have dealt locally with complaints
There have been a series of calls from Muslim groups, including within the party, for the Conservatives to do more to tackle Islamophobia among members.
Earlier this month, the chairman of the Conservative Muslim Forum Mohammed Amin said the party was perceived as being "anti-Muslim" and had prioritised electoral concerns rather than taking "decisive action".
Baroness Warsi has urged Prime Minister Theresa May to publicly acknowledge that Islamophobia was a problem in the party and said either an internal inquiry or independent inquiry must be established and its findings published.
The Muslim Council of Britain has urged the Tories to launch an independent inquiry.
In response to Mr Lewis's statement, a spokesman said: "We welcome the implicit acknowledgement of at least a small number of the serious challenges facing the party, as well as what seems like a movement away from the 'attack the messenger' approach.
"However, whilst a positive step, the very basic proposals do little to deal with the serious concerns that we - amongst others - have raised."
Nor will they distract the public from the very reasonable calls for a full inquiry."