Seni's law: Commons setback for mental health unit reforms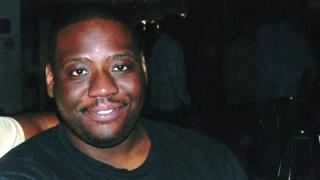 A planned new law to avoid the excessive use of force in mental health units has failed to get a third reading in the Commons.
The government backs the legislation - dubbed "Seni's law" after a man who died in custody after being restrained by police officers.
But it ran out of Commons time, with one Tory MP speaking for 148 minutes.
Campaigners are hoping it will make progress when it returns to the Commons on 6 July.
The Bill has been inspired by the case of Olaseni Lewis, who was known as Seni to his friends and family.
The 23-year-old, from South Norwood, in London, died in September 2010, days after he fell unconscious while being restrained by 11 Metropolitan Police officers at Bethlem Royal Hospital.
The measures aim to better govern the use of force in relation to patients in mental health units - and make those who use force more accountable.
It would require police officers to wear body cameras while carrying out restraint unless there are legitimate operational reasons for not doing so.
Any non-natural death in a mental health unit would automatically trigger an independent investigation under the plans.
Labour MP Steve Reed, who brought forward the legislation in a Private Member's Bill, said it was Mr Lewis's legacy and would prevent anyone else going through what he and his family had been through.
Health Minister Jackie Doyle-Price paid tribute to Mr Lewis's family - who were watching the debate from the public gallery - for the "dignified" way they have campaigned for justice and for change following his death.
She said the bill would bring real change in mental health treatment.
Conservative MP Philip Davies spoke for nearly two-and-a-half hours, addressing more than 100 amendments put to the Mental Health Units (Use of Force Bill) at report stage by MPs, including several of his own.
The Shipley MP clashed frequently with his own front bench over the need for some of his amendments, at one stage branding ministers "shameful" after being told one was "unnecessary".
Other MPs also voiced their frustration at the length of his speech, which finished after 148 minutes.
Mr Davies argued the government should accept changes to improve the state of the proposed legislation.
With less than 10 minutes for debate time on the bill's third reading, time ran out during a speech by another Conservative MP, Sir Christopher Chope, who then went on to block another bill, that would have outlawed "upskirting".