NHS groups welcome immigration change for doctors and nurses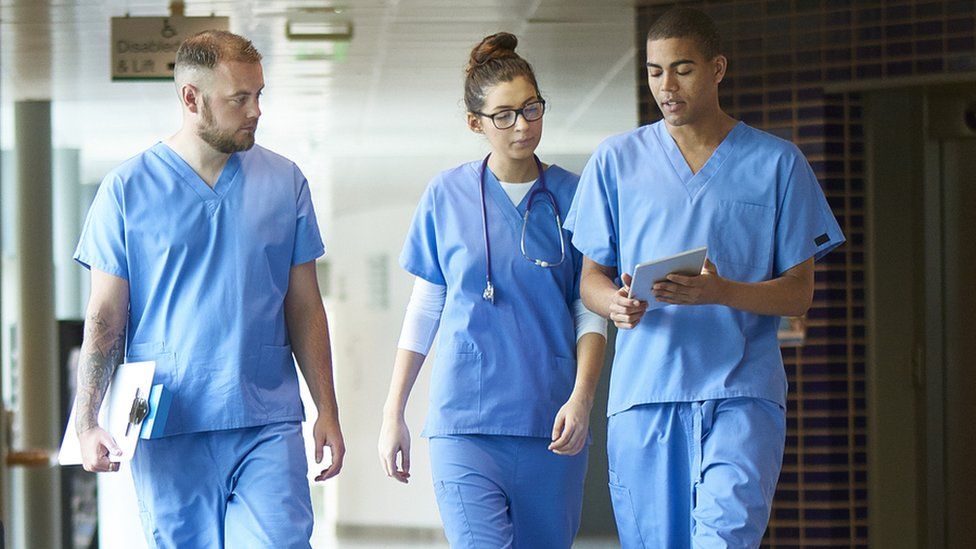 NHS groups have welcomed the decision to relax immigration rules to allow more doctors and nurses from outside the EU into the UK.
The Home Office said foreign medics would be excluded from the government's cap on skilled migration.
NHS bosses said it would be a "huge relief" to health trusts while Health Secretary Jeremy Hunt said it was "extremely welcome".
The cap sets the limit for all non-EU skilled workers at 20,700 a year.
It was introduced by Theresa May when she was home secretary but has prompted warnings it makes it hard to fill vacancies in the NHS.
Labour described the move as a "welcome U-turn" while the Royal College of GPs said it was a "great step forward".
But an immigration pressure group said the UK should train its own medics and not "raid other countries".
So-called Tier 2 visas are used by employers to bring skilled workers to the UK from outside the European Economic Area and Switzerland.
Since 2011, there has been a cap on the number of these visas that can be issued. Until December 2017, it had only been exceeded once, in June 2015, but recently it has been hit for several months in a row.
The government said this was mostly driven by demand for NHS workers which make up 40% of all Tier 2 places.
On Tuesday, it was reported by the Financial Times that 2,360 visa applications by doctors from outside the European Economic Area were refused in a five-month period, apparently because of the cap.
And in April, NHS bosses warned that immigration rules were hampering their ability to find workers after visas for 100 Indian doctors were refused.
NHS England had 35,000 nurse vacancies and nearly 10,000 doctor posts unfilled in February, according to an NHS Improvement report.
According to think tank Global Future, 12.5% of NHS England's staff are from overseas. That number rises to 45% in certain specialities including paediatric cardiologists and neurosurgeons.
The proposed change will only apply to doctors and nurses - but the government said it would free up hundreds of visas a month for workers in other industries like IT and teaching.
More details are to be set out on Friday.
Dr Sandeep Kumar contacted the BBC to describe how he had been affected by the cap.
"My wife and I are Indian Citizens. We currently work at the University Hospital in Kerry in Ireland. We both want to be GPs in the UK and after multiple exams we were able to secure training posts at a hospital in Blackpool due to start in August.
"The hospital in Kerry offered to extend our visas so we could continue in our current posts. We said no thank you, we have got our dream job in the UK. They therefore filled our posts.
"Then a month ago I had my visa application rejected because of the cap. My wife is still waiting on hers.
"Our visas in Ireland expire in August. We have a five month old daughter. We have been out of India for three years and no permanent place to go in India.
"I was delighted when I heard the news the cap was to be lifted but I need to know when it will be. We need something immediately. I think it is good to have some immigration controls but if there are skilled areas where there is a shortage then there shouldn't be a cap.
"The NHS needs doctors and we want to come to work there. It is the British public who will suffer in the end if there are staff shortages."
Home Secretary Sajid Javid, who recently suggested a rethink of several key parts of the government's immigration policy, said: "I recognise the pressures faced by the NHS and other sectors in recent months. Doctors and nurses play a vital role in society and at this time we need more in the UK. That is why I have reviewed our skilled worker visa route."
BBC political correspondent Ben Wright said the announcement could also encourage others to argue for the net migration target of under 100,000 - which has never been met - to be abandoned.
Saffron Cordery, of trade body NHS Providers, told BBC Radio 4's Today programme the change was "absolutely the right decision".
"This is going to be a huge relief for trusts up and down the country who have been really struggling to fill their doctors and nurses vacancies," she said.
The Royal College of GPs said the cap had been "arbitrary, unhelpful and in fact quite destructive" and described excluding medics from it as a "great step forward".
Alp Mehmet, of pressure group Migration Watch, said he accepted the change but that it should not be the long-term solution.
"What we must not forget to do is train our own medical staff," he said, adding that the UK should not "raid other countries that need doctors and nurses a great deal more than we do".
Speaking at the NHS Confederation's annual conference in Manchester, Health Secretary Jeremy Hunt said training places for doctors, nurses and midwives were up by 25%.
But he added: "In the period between now and when those training places convert into fully trained clinicians, the government should be flexible on visas. And that is why it is extremely welcome that today the prime minister has announced that doctors and nurses will be removed from the tier 2 visa caps."
UK government policy aims to reduce net migration to below 100,000 a year.
"Perhaps this is a sign that Sajid Javid is willing to take a bolder and more flexible approach to immigration, and deliver the kind of system that Britain will need after we leave the EU," said Sunder Katwala, director of the immigration think-tank British Future.
"It never made sense to turn away doctors and nurses that the NHS needs."