Minister Phillip Lee quits over Brexit strategy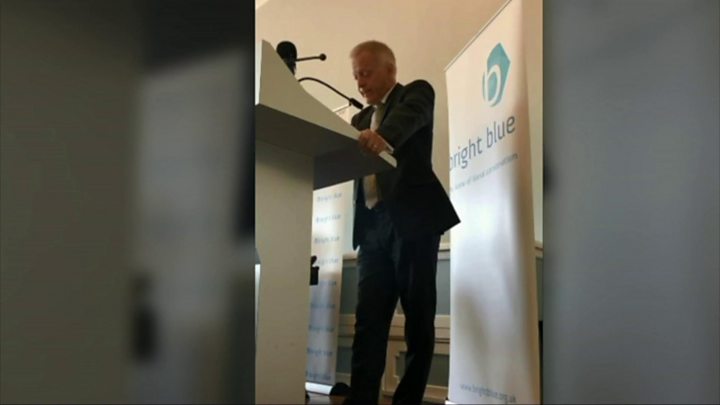 The government has suffered its first resignation over Brexit, with Justice Minister Phillip Lee calling for a change in strategy.
Mr Lee warned the current approach would damage businesses in his Bracknell constituency.
He accused the government of trying to "limit" Parliament's role and called for another referendum once ministers' chosen path becomes clear.
It came ahead of a series of votes on the government's EU Withdrawal Bill.
The government avoided defeat in one of these votes - on giving MPs the decisive say on what happens over Brexit if they do not agree with the deal negotiated by the UK government - by 26 votes after a late concession to critics.
The concession is believed to include offering a new Parliamentary motion if the Brexit deal is voted down by MPs and peers.
Revealing he had abstained in that vote, Mr Lee said he was "delighted" at the government's concession, adding: "This justifies my decision to resign and makes it a lot less painful."
Mr Lee, who supported Remain in the 2016 EU referendum, has previously warned about the economic impact of Brexit.
In a statement on his website, he said Brexit was "more complex than was ever envisaged" and he could not support "how our country's exit from the EU looks set to be delivered".
It is "irresponsible to proceed as we are", he said, calling for the UK to "pause, extend or revoke" the Article 50 process which formally triggered its departure from the EU.
He singled out the issue of the "meaningful vote" being offered to Parliament on the final deal reached between the UK and the EU.
The government has proposed a "take it or leave it" vote, rejecting calls for Parliament to decide what happens next if it rejects the deal.
But Mr Lee said: "In all conscience, I cannot support the government's decision to oppose this amendment because doing so breaches such fundamental principles of human rights and Parliamentary sovereignty.
"A vote between bad and worse is not a meaningful vote. And I cannot bring myself to vote for it in the bastion of liberty, freedom and human rights that is our Parliament."
He added: "When the government is able to set out an achievable, clearly defined path - one that has been properly considered, whose implications have been foreseen, and that is rooted in reality and evidence, not dreams and dogma - it should go to the people, once again, to seek their confirmation."
Opposition politicians and Remain campaigners welcomed his resignation.
"For Theresa May, this is a warning of things to come," said Lib Dem Tom Brake.
Labour MP Chuka Umunna said the Tory's backing for a second referendum was "very significant".
Conservative MP Nick Boles said he disagreed with his colleague but admired his "classy" approach, contrasting it with ministers who "threaten resignation but never follow through".