Brexit tensions leave Tory MPs hot and bothered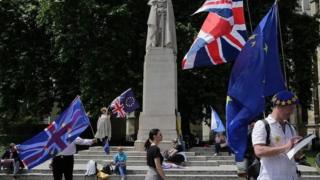 Would it really undermine the UK's negotiating position? The EU has known full well for months that the government will have bumps getting their business through Parliament.
Or would possible defeats in the Commons in the next few days simply undermine her?
Theresa May tried to warn off her MPs from voting against ministers this week. She has, let's face it, not exactly been having the best of times recently. And with no majority, any knock to her authority sends SW1 into a frantic guessing game - could this be the moment her time is up?
But her appeal now is because there will be a frenzy of voting in the Commons in the next couple of days on the draft laws that will take us out of the European union, after the House of Lords tweaked a lot of the plans.
The government, as the process staggers on, wants to unpick those changes in the Commons this week.
The trouble is, the Tory party is in a bad place, with the government having to do the splits to try to keep the Remainers and the Brexiteers and various factions on board at the same time.
No 10 has had to back down on a vote on Wednesday - giving some ground to the Remain side about how customs should work after Brexit. The compromise amendment has bought off some of the potential rebels for the moment, although a big fight on the issue is still expected next month.
But there is still a chance of a squeaky moment for the government, or having to rely on votes from some Labour MPs, on a move to give Parliament more power if MPs vote to reject the final Brexit deal.
Sources tell me the numbers are still rather dicey for that so called 'meaningful vote' amendment.
There are discussions ongoing among potential rebels about whether they should deploy their forces.
Some of them believe, as they do on the customs issue, that they have the numbers to beat the government if they decide it's the right moment. Appeals for party unity in the last couple of days, and the compromise on customs seem to have had some sway.
But we face another week in a hot and bothered Westminster, where Theresa May can't guarantee she's going to get her way. And nimble work over the Parliamentary numbers by the government whips don't make the bigger problems go away. They allow the government to do what one cabinet minister told me was the number one job right now, "just getting through the day".
But at the heart of this tussle in Parliament, and inside the Tory party, is still there - whose version of life after the EU is going to win.