Arron Banks refuses to appear before Commons committee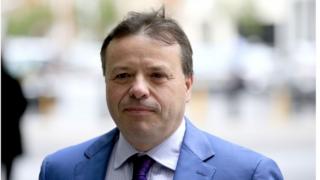 Leave.EU founder Arron Banks has accused MPs of a "witch hunt" against pro-Brexit groups after pulling out of a scheduled Commons hearing next week.
Mr Banks had been due to give evidence to the Commons culture committee's inquiry into fake news on Tuesday.
But he suggested it was biased as it had no Leave-voting MPs and had not called Remain groups for questioning.
It follows a row over Vote Leave director Dominic Cummings' refusal to appear before the same committee.
The Commons voted on Thursday to censure Mr Cummings and to require him to appear before 20 June.
In a letter to Damian Collins, the Tory MP who chairs the committee, Mr Banks accused the committee of working with the Electoral Commission and Information Commissioner to target Leave-supporting groups.
He suggested the committee had "colluded" with activist group Fair Vote Project, which has brought a legal action in the US against two firms controlled by Mr Banks, claiming they had improperly transferred personal data as part of a tie-up with the University of Mississippi.
The case stems from the furore over the alleged harvesting of personal Facebook data by Cambridge Analytica and whether it was used to influence the outcome of the US presidential election and Brexit referendum.
Mr Banks, who denies the allegations, said claims made by former Cambridge Analytica (CA) director Brittany Kaiser to the committee had been cited in the US lawsuit.
'No witnesses'
Ms Kaiser told MPs in April that data misuse was "rife" among the Mr Banks-controlled Eldon Insurance and Big Data Dolphins firms, that Mr Banks asked Cambridge Analytica for a joint strategy for Eldon Insurance, Leave.EU and UKIP and that Cambridge Analytica "took receipt" of UKIP's membership data as part of this.
Leave.EU rejects Ms Kaiser's statements and CA, which is being investigated by the Information Commissioner, said it has never received data from any Banks company.
Mr Banks said the cross-party committee had "actively supported" the Fair Vote Project through the "early release" of written evidence from Ms Kaiser before her appearance.
Mr Banks said he would be complaining to the parliamentary authorities and he and fellow Leave.EU director Andy Wigmore would not appear before the committee until the matter had been settled.
"It is perfectly clear that the committee, which comprises only of Remain supporting MPs, is conducting a co-ordinated 'witch hunt' of Leave groups, involving the Electoral Commission and the Information Commissioner," he said.
"You have called no witnesses from the Remain campaign or associated groups."
'Seeking answers'
In response, Mr Collins said that it was not just the committee that had questions for Mr Banks and that it would continue to "follow the evidence".
And the Fair Vote Project said its US court action related solely to securing key documents and should not prevent Mr Banks from appearing before MPs.
"The court in Mississippi, the committee, the ICO and the Electoral Commission are all seeking answers to legitimate questions," said its director Kyle Taylor.
"We believe Mr Banks and Mr Wigmore can provide them."
Mr Banks has also said Leave.EU would appeal against a £70,000 fine from the Electoral Commission for breaches of election law in the Brexit referendum.
The Electoral Commission said the group - which was separate from the official pro-Brexit group Vote Leave - failed to report "at least" £77,380 it spent.