Ministers try to water down changes to 'meaningful' Brexit vote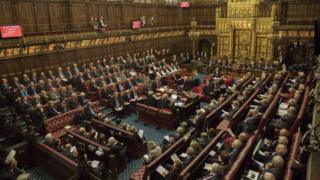 Ministers have rejected a bid by peers to give Parliament a more decisive say over Brexit.
The EU Withdrawal Bill returns to the Commons next week, having been defeated 15 times in the House of Lords.
A key Lords amendment would empower MPs to stop the UK from leaving with no deal, or make the PM return to talks
The government has put forward its own amendment under which MPs could still vote down a Brexit deal but wouldn't be able to direct what ministers do next.
The Lords amendment, backed by peers in April, would allow Parliament to determine the government's course of action, if MPs rejected the deal or if the UK and EU were not able to reach an agreement of any kind.
But in the government's amendment, if the deal was rejected by MPs, ministers would have 28 days to make a statement setting out how to proceed.
A spokesman for the Department for Exiting the European Union said: "Our amendment removes Parliament's ability to direct the government in relation to negotiations, which would set a huge constitutional precedent in terms of which branch of the state holds the prerogative to act in the international sphere."
The government faces a series of votes on issues including the customs union, the single market and Parliament's say on the deal next week.
The government has rejected nearly all of the 15 amendments made by the House of Lords.
It has accepted one amendment - on allowing EU law to be replicated in the UK - and is looking favourably at another, by Lord Dubs on lone child refugees, but with changed wording.
Speaking on her way to the G7 summit in Canada, Prime Minister Theresa May told reporters: "I hope what everybody will see when they come to vote next week is the importance of ensuring that we get the EU Withdrawal Bill onto the statute book because it's that EU Withdrawal Bill that ensures that we're able to have that smooth transition when we leave the European Union."
But Labour said it was "vital" that Parliament had a meaningful vote on the Brexit deal. Shadow Brexit Secretary Sir Keir Starmer said it was "crucial" the Lords amendment remained: