David Davis - the maverick minister
By Brian Wheeler
Political reporter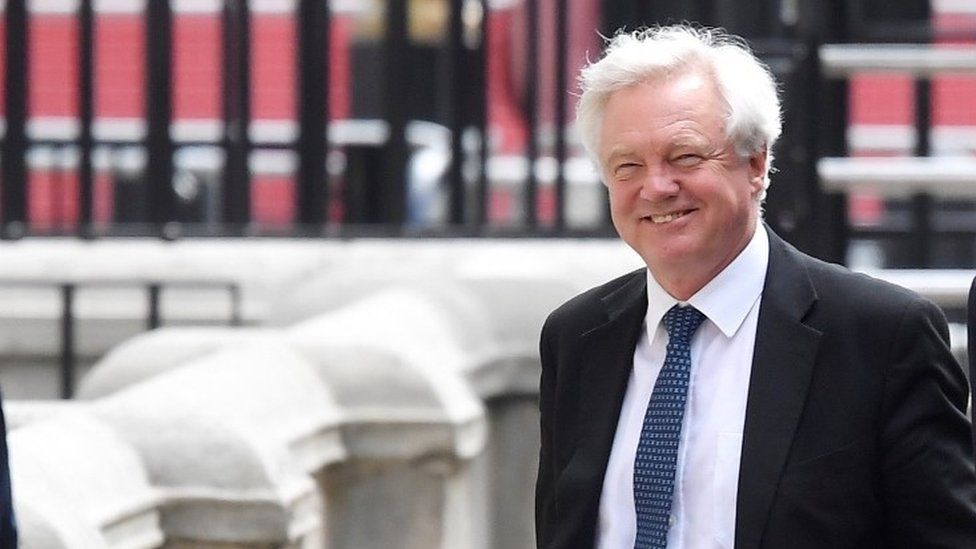 David Davis, who has quit as Brexit secretary, had one of the toughest jobs in politics - negotiating Britain's exit from the EU - and he also has one of the most colourful CVs.
A former SAS reservist, who grew up on a south London council estate, David Davis is a self-styled political maverick who had carved out a career as a champion of civil liberties before his unexpected return to front-line politics in July 2016 as secretary of state for exiting the EU.
He took to the role of negotiating Brexit with characteristic swagger, brushing off accusations from critics that he was too lazy, or lacked the intellectual depth, for such an apparently complex and nuanced task.
"What's the requirement of my job? I don't have to be very clever. I don't have to know that much. I do just have to be calm," he told LBC radio.
The Brexit secretary job might have been unexpected, but as a long-time opponent of Britain's EU membership it was an opportunity he grabbed with both hands.
He proved more publicly loyal to Theresa May than fellow Brexiteer Boris Johnson, earning the trust of the prime minister as her representative in Brussels, in what have turned out to be fraught talks with his opposite number, Michel Barnier.
His former reputation as someone who likes to be the centre of the media's attention - he once dramatically walked out of David Cameron's shadow cabinet and called a by-election - lingers on.
His appearances before Hilary Benn's Brexit select committee have become box-office moments at Westminster.
On one occasion, Mr Benn tried to pin him down about comments he had made in July 2016 - two days before Mrs May drafted him into the cabinet - when he said the UK would be able negotiate a free-trade area "massively larger than the EU" within two years of Brexit.
A laughing Mr Davis said the comments had been made before he had become a minister, later adding: "That was then, this is now."
Some of his former allies on the libertarian left struggled to come to terms with the new, ministerial Mr Davis.
Journalist Henry Porter, who often shared a platform with him at debates and campaign events, wrote in the Observer: "I came to like him a lot and to admire his bounce and pugnacity.
"Among all the politicians I knew - with the possible exception of [Remain-supporting Tory MP] Dominic Grieve - David possessed the deepest instinct for liberty."
But Brexit clearly mattered far more to Mr Davis than protecting ancient Parliamentary liberties, said Porter, as he lamented the changes he had seen in his friend since taking on ministerial office.
"While I would be happy to be in the jungle or stuck in a lift with him, I would draw the line at being stranded in a planning room with him," he said.
Date of birth: 21 December, 1948 (69)
Most recent post: Secretary of state for exiting the EU, MP for Haltemprice and Howden since 1987
Education: Tooting Bec grammar school, Warwick University (Bsc molecular science and computer science), London Business School, Harvard University management school
Family: Married Doreen in 1973. Three children
Before politics: Senior executive at sugar giant Tate and Lyle
Initially seen as an ultra-Thatcherite, David Davis was elected to Parliament in 1987, at the age of 38, after a career in management with sugar giant Tate and Lyle. But Mr Davis did not fit the traditional mould of a Tory MP.
Despite being a passionate opponent of socialism in all its forms, his political hero is the late Tony Benn, father of Hilary and hero of the radical, Corbynista left.
He had a troubled background. "I was a wild kid," he told an audience at the Royal Festival Hall in 2002, where he shared the stage with Mr Benn, something, he said, that would have made his Labour-voting parents very proud. The two bonded over their shared Euroscepticism - but little else - at that event.
He got into Warwick University on an army scholarship and trained with the SAS as a reservist to help pay his way.
His military background, and fearless attitude, endeared him to Tory grandees such as the late Alan Clark, another of his heroes, as he began his rise through the party ranks in the early 1990s.
Over dinner hosted by Clark at his medieval Saltwood Castle, in Kent, Mr Davis agreed to walk along the crumbling ramparts overlooking the ruins of a chapel.
"[He] did the 'black' route without turning a hair, then retraced his footsteps, hands in pockets - first time that's ever been done!" Clark wrote in his diary.
"I remember one of the Cameroons saying to me in exasperation that he was the only person he knows who did not go to Eton but has the same level of self-confidence you get from an Eton education."
Despite his Eurosceptic views, Mr Davis served as a government whip under pro-EU Prime Minister John Major in the early 1990s, attempting to get rebel Tory MPs to support the Maastricht Treaty, which paved the way for closer European integration.
He later served as Mr Major's Europe minister, helping to negotiate some of the agreements with Brussels he has since been charged with unpicking.
His "hard man" image, working-class background and staunch right-wing credentials made him the frontrunner to replace Michael Howard as Conservative leader in 2005 (he had made an unexpected, and unsuccessful tilt at the job in 2001).
He lost out to David Cameron, who made him shadow home secretary, where he carved out a distinctive niche for himself as a defender of traditional British freedoms, even though the two men had little time for each other.
In 2008, he dramatically resigned his Haltemprice and Howden seat, and his frontbench role, to fight a by-election in protest at Labour's plans for identity cards and 42-day detention without charge.
He won easily but rejected a job in the coalition government in 2010 to continue his civil liberties crusade from the backbenches, often in conflict with then Home Secretary Theresa May.
He was involved in legal action against the government over Mrs May's data-retention plans - dubbed the "snoopers' charter" by critics - when he got the call to join her cabinet.
Mr Davis will celebrate his 70th birthday in December, just over three months before Britain officially leaves the EU at the end of March 2019.