Mary Wilson, poet and wife of ex-prime minister Harold, dies aged 102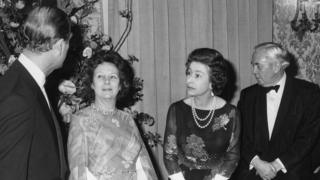 Mary Wilson, widow of former Labour prime minister Harold Wilson, has died aged 102.
Labour leader Jeremy Corbyn paid tribute to her as a "wonderful poet" and "huge support in Harold's general election victories".
Harold, later Lord, Wilson was prime minister from 1964 to 1970 and again from 1974 to 1976, winning four elections.
Lady Wilson died at St Thomas' Hospital in London on Wednesday.
A friend of the late poet laureate Sir John Betjeman, her own poems were published in the 1970s in two volumes and sold in their tens of thousands.
"She was extremely intelligent and I would say formidable, but that sounds as if she was harsh. She was a very strong person," Dame Margaret Beckett told BBC Radio 4's Today programme.
The former foreign secretary described how Lady Wilson had cared for Harold and helped to "maintain his dignity" during his long battle with Alzheimer's disease, which ended in his death in 1995.
"She was a really, really lovely person and I am very sorry she is gone," added Dame Margaret.
---
Mary Wilson's poem on Harold's death
My love you have stumbled slowly
On the quiet way to death
And you lie where the wind blows strongly
With a salty spray on its breath.
For this men of the island bore you
Down paths where the branches meet
And the only sounds were the crunching grind
Of the gravel beneath their feet
And the sighing slide of the ebbing tide
On the beach where the breakers meet
---
The daughter of a reverend, she was born Gladys Mary Baldwin in the Norfolk town of Diss in January 1916.
She wrote poetry from the age of six and became a shorthand typist in Cheshire after leaving school, meeting her future husband at a tennis club in the area in 1934.
The pair married on New Year's Day in 1940, when Harold was working as a senior civil servant at the Ministry of Fuel and Power.
She was at his side during his rise to prominence in the Labour Party but tended to shun the limelight during their years in Downing Street.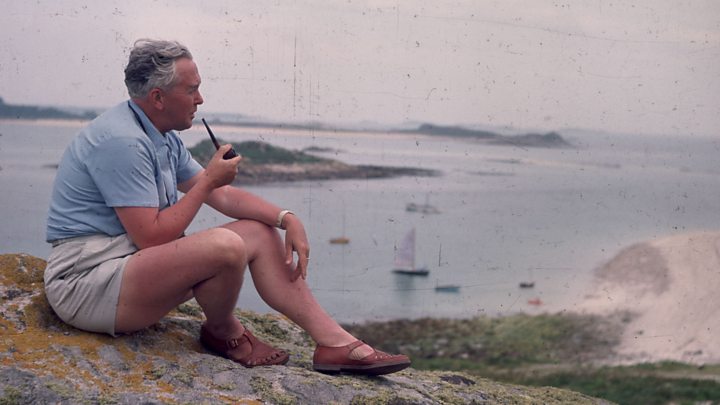 At her husband's farewell party in March 1976, cabinet minister Tony Benn told her she would now be able to have a quiet life.
"I have done my best," she replied, "but I now just want to slip back into obscurity again."
The Wilsons had homes in London and the Isles of Scilly, where Mary continued to holiday into her late 90s.
They had two sons, Robin and Giles, the former now an emeritus professor in mathematics at the Open University, which was founded under his father's government in the 1960s.
Leading tributes to Lady Wilson, Jeremy Corbyn wrote on Twitter: "Sad to hear of the death of Mary Wilson. A wonderful poet and a huge support in Harold's General Election victories. I send my condolences to her family and friends."