Nigel Farage to head 'down under' on Brexit tour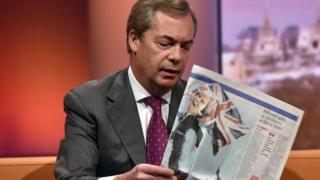 Nigel Farage is to embark on a speaking tour of Australia, an experience his promoter promises will be "immersive and brag-worthy at the highest level".
The ex-UKIP leader is taking his "evening with" show to Sydney, Adelaide and other cities in September.
Promotional material for the event describes Mr Farage as the "great disruptor" of European politics.
Tickets offering a one-to-one meeting and a photo with Mr Farage are on sale for 295 Australian dollars (£166).
Mr Farage, one of the most polarising figures in British politics, has become a well-known figure in the US due to regular appearances on Fox News and his outspoken support for President Donald Trump.
Now it appears that the MEP is trying to break new ground down under, with a week of shows in Perth, Brisbane, Adelaide, Sydney and Melbourne.
He will also be visiting New Zealand for a show in Auckland.
The tour website describes the controversial politician as the "face" of the Brexit campaign to leave the EU who is "widely consulted" for his views on international political issues and populist revolts against the political establishment.
Mr Farage, who has tried unsuccessfully to get elected to the UK Parliament, will lose his seat in the European Parliament next year when the UK leaves the European Union.
The European Parliament is in recess during Mr Farage's Antipodean tour, its first autumn plenary session will begin on 10 September.
Overseas speaking engagements continue to prove lucrative for a select group of leading British politicians.
In January, it emerged wealthy business people in China were being offered the opportunity to have dinner with former prime minister David Cameron and be pictured with him for £12,000.
Former chancellor George Osborne was paid £80,000 for a single two-hour speech in New York in 2016.
He recently notched up what is believed to be his eighth job since leaving office.
The Evening Standard editor was made chairman of a panel of advisers to Italian firm Exor, which owns Juventus and has major stakes in Ferrari and Fiat.