Green leaders: Who came before Caroline Lucas?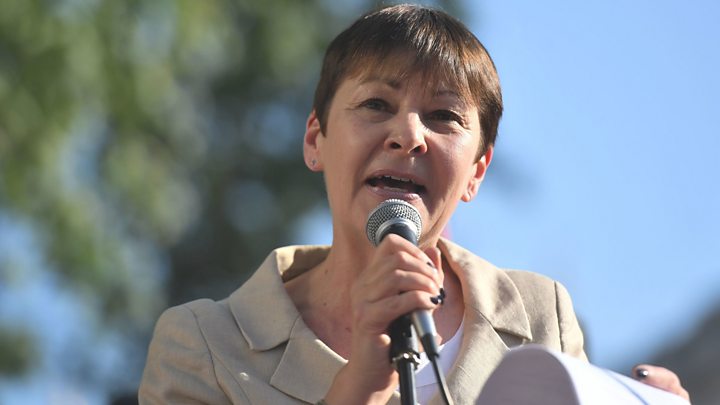 Caroline Lucas - the best known Green politician in the UK and the party's only MP - is standing down as its leader. Here are some of those that went before her.
First things first... a potted history of the party
The Green Party effectively began life after a Coventry couple got a group of friends together to discuss a Playboy article on rainforest destruction.
Out of that 1973 meeting a small party called People was born which fielded just five candidates in the February 1974 general election.
The following year People became the Ecology Party and adopted the "Manifesto for a Sustainable Society".
The document would eventually become the "philosophical and policy" blueprint for the Green Party which came into being in 1985. The Scottish Green Party became a separate party in 1990, hence the party we are referring to here is the Green Party of England and Wales.
The party prided itself on taking a different, non-hierarchical approach to politics and initially did not have a leader, electing two principal speakers - a male and a female - instead.
They ditched that system in 2008, with the aim of generating more media coverage, but the move was not popular with everyone in the party.
2008-2012: Caroline Lucas
The Greens' first solo leader was Caroline Lucas. A member of the European Parliament since 1999, she was an accomplished media performer who believed giving the party a single, recognisable face would help draw attention to its policies.
She succeeded in gaining the party a long-coveted toe-hold at Westminster, when she was elected MP for Brighton Pavilion in 2010 by a margin of 1,252. She won 31.3% of the votes on a turnout of 70%.
But two years later she announced she was standing down as leader, to allow others in the party to build up their profile.
2012-2016: Natalie Bennett
The previously little-known Australian journalist replaced Caroline Lucas as party leader in 2012, winning 42.2% of the votes in the party's leadership election. She won overwhelmingly again in 2014.
She had previously stood - unsuccessfully - for the Greens in the 2006 and 2010 Camden Council elections and stood for the Parliamentary seat of Holborn and St Pancras in 2010. She came fourth with 2.7% of the vote.
Ms Bennett targeted disaffected Labour voters with an anti-austerity message and succeeded in doubling the party's share of the vote at the 2015 general election, gaining prime time exposure in televised debates. She also led the party during the EU referendum campaign, backing the Remain side.
But as someone new to frontline politics she sometimes struggled with media appearances, famously suffering what she described as "brain fade" while trying to explain the party's housing policy in a live radio interview.
2016-2018: Caroline Lucas and Jonathan Bartley
In a bit of a return to the early days of having two people sharing the leadership role, Caroline Lucas and Jonathan Bartley stood on a joint ticket and won 86% of the vote in the 2016 Green leadership election, on a turnout of 29.8%.
Bartley, like Natalie Bennett a relative newcomer to Green politics, had previously been a think tank director and a leading voice in the ill-fated campaign to change Britain's voting system in the 2011 AV referendum.
He did not stand for election at the 2017 general election. He had previously stood unsuccessfully for the Green candidacy at the 2016 London mayoral election, and for the London constituency of Streatham in the 2015 general election. He finally gained elected office in May this year, when he became a councillor in Lambeth, South London, and is now leader of the official opposition to Labour there.
At the 2017 general election. Lucas and Bartley enthusiastically embraced the idea of a "progressive alliance" of left-leaning parties joining forces to fight the Conservatives.
But some in the party were unhappy at being asked to stand aside for Labour or Lib Dem candidates and the party saw its share of the vote more than halve from 2015, with just 1.5% of votes cast. One bright spot was that Caroline Lucas successfully defended her Brighton seat.
Prior to 2008 the party had two principal speakers rather than a leader. Here are some of those who held the role:
Sian Berry
A seasoned activist and campaigner, Sian Berry has been a member of the London Assembly since 2016 and a member of Camden council since 2014, increasing her majority in the Hampstead and Highgate ward earlier this month.
She came fourth in the 2008 London mayoral elections and went one better in 2016, overtaking the Liberal Democrats to come third.
She was one of the Green Party's principal speakers from 2006 to 2007 and was a founder of the Alliance against Urban 4x4s and a supporter of the Reheat Britain scheme that secured a boiler scrappage scheme in 2009.
Derek Wall
An economics lecturer with a long history of Green activism, having joined the Ecology Party in 1980, Derek Wall is a leading figure in the "eco-socialist" wing of the party, sometimes referred to as Red Greens, for their anti-capitalist views.
At the 2005 general election, he stood unsuccessfully as a candidate for Windsor, coming fourth with 2.5% of the vote.
He was the Green Party's last male principal speaker, from 2006 to 2007 (alongside Sian Berry) and from 2007 to 2008 (alongside Caroline Lucas).
He campaigned against the proposed single leader system, describing the title of leader as "embarrassing" and "patronising", and comparing a party with a leader to a flock of sheep with a shepherd. He stood against Theresa May in Maidenhead in last year's general election, gaining 2% of the vote.
Jean Lambert
Having joined what was then the Ecology Party in 1977, Jean Lambert became female principal speaker from 1992 to 1993, alongside Richard Lawson, followed by Mallen Baker, and again from 1998 to 1999, alongside Mike Woodin.
The former teacher from Walthamstow, East London, was - alongside Caroline Lucas - the first Green politician to win a seat in the European Parliament in 1999. She won 87,545 votes (7.7 %) and was re-elected in 2004 and again in 2014. She served as vice president of the Greens/European Free Alliance Group of MEPs.
David Taylor
An influential figure in the early years of the party, who sought to combine what he described in a 1998 article as "my two personal worlds - of Ecology Party meetings and actions on the one hand, and of a cultural 'hippy revolution' on the other", he advocated non-violent direct action and a decentralised party structure.
In the 1980s, he founded the Green Gatherings festival and the Greenfields area at Glastonbury festival, coordinating litter picking operations.
He was the party's male principal speaker from 1994 to 1995 alongside Jan Clark, and from 1995 and 1997 alongside Peg Alexander.
Keith Taylor
Keith Taylor was a key figure in building up the Green Party's Brighton powerbase, first as a councillor and then as a Parliamentary candidate.
He gained 9.3% of the vote in the 2001 general election and then 21.9% in 2005, missing out on a seat at Westminster.
After being elected male principal speaker in 2005, narrowly beating Derek Wall, he revealed he had been banned from every Tesco store in the country after staging demonstrations against the building of a new supermarket in Bristol in the early 1990s.
He served alongside Caroline Lucas in the principal speaker role for a year, before being defeated by Mr Wall by 767 votes to 705.
But he was able to take up a seat in the European Parliament, when Ms Lucas became an MP in 2010. He was re-elected as an MEP for the South-East of England in 2014.