Brexit: UK promises 'significant' White Paper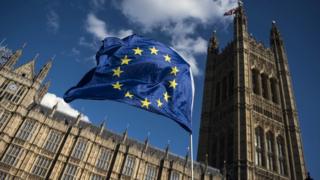 The government says a White Paper setting out its Brexit position will be its "most significant publication on the EU" since the 2016 referendum.
It will include "detailed, ambitious and precise explanations of our positions", Brexit Secretary David Davis told colleagues.
Ministers have yet to settle a debate about managing post-Brexit customs.
Labour said it was "deeply disturbing" that ministers "still cannot agree on the most fundamental Brexit issues".
The paper will be published ahead of June's key EU summit.
Extending to more than 100 pages, it will involve reaching agreement with almost every government department.
A cabinet source told the BBC it would "allow the UK to go and actually negotiate".
BBC political editor Laura Kuenssberg said the Brexit Department had been pushing for the White Paper - a type of policy document - for some time, but was only able to secure agreement from Number 10 and the rest of the cabinet at a meeting earlier on Tuesday.
Many subjects, including aviation, financial services and fisheries are expected to feature.
In comments to the Cabinet made earlier that the government has just released, Mr Davis said the document "will communicate our ambition for the UK's future relationship with the EU, in the context of our vision for the UK's future role in the world".
It will also set out "the reasoning behind our approach" and "what will change and what will feel different outside the EU", he added.
---
Analysis by BBC political editor Laura Kuenssberg
Whether it's aviation, medicines, the law, fishing, agriculture, the City, the list goes on and on, the Brexit department and other departments have got only a few weeks now to agree what to put into black and white.
For the Department for Exiting the EU that means a multi-faceted negotiation, not with the EU this time, but with departments right across Whitehall.
It also implies that by then, there will be agreement in cabinet over which model of customs to pursue. MPs have been briefed, sub-sub committees (yes, you read that right), have been formed, and the arguments have been shall we say, well-ventilated even in public.
On that, this morning apparently at cabinet the chief whip told off those ministers who had been expressing their views rather too freely, with several around the table urging the need for unity, accompanied by what one told me was "chuntering and eyerolling" from Boris Johnson.
There is no obvious way out of this unless the prime minster picks a public side. And remember it's been the hallmark of her time in Number 10 to try to stay above the fray - a method her critics would say is failing to take decisions, but her supporters say is dealing with reality.
---
The UK is due to leave the EU in March 2019, but ministers have not yet agreed how to replace the current membership of the customs union, which allows for tariff-free trading between members.
Cabinet Office minister David Lidington told BBC Radio 4's Today programme on Tuesday that the white paper would give "the most detailed account that we've so far given in government of how we see these negotiations concluding, the sort of, very ambitious, deep and special partnership with the European Union 27 that we want to see.
"Not just on trade but in terms of our continued co-operation on police matters, on judicial co-operation against crime, and on political and diplomatic co-operation in a world where many of the challenges from terrorism, from an aggressive Russia and so on that the other European countries face are ones we continue to face as well."
Earlier the group of senior ministers on the Brexit sub-committee met to discuss the government's two proposals - a customs partnership with the EU, and the use of technology to minimise border checks.
The partnership arrangement - which is believed to be Theresa May's preferred option - has been strongly criticised by Brexiteers including Foreign Secretary Boris Johnson.
There is still no firm decision on which option to choose, but several cabinet ministers had acknowledged privately there could be an extension of the UK's customs union membership to give time for a solution to be developed, Laura Kuenssberg added.
In February, the government published a Brexit White Paper after pressure from Labour.
Responding to news of the new publication, shadow Brexit minister Paul Blomfield said: "Ministers have finally agreed to publish a White Paper on the government's negotiating position, but they still don't know what it will say."
Mr Blomfield said ministers had "wasted months arguing amongst themselves rather than negotiating in the national interest".