Electoral Commission wants tougher power to get documents quickly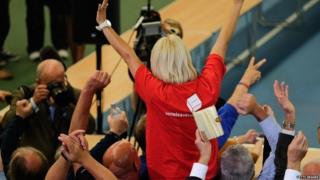 The Electoral Commission has said it would like powers to seize documents more quickly during investigations into alleged violations of electoral law.
Officials from the elections watchdog told MPs they were currently able to obtain warrants and search premises and, if needed, seek a court order.
But they said greater "immediacy" was needed when targeting other groups assisting high-profile campaigners.
A series of investigations relating to the Brexit referendum are continuing.
Last week, the regulator fined the pro-Brexit campaign group Leave.EU £70,000 for breaking spending rules during the 2016 campaign.
The group's founder, Arron Banks, denies the claim and has said it will go to court to challenge the fine.
During a hearing of the Commons Digital, Media and Culture committee, the Commission's head of regulations Louise Edwards said investigations into Vote Leave, the lead Brexit campaign, and Better For the Country were "well advanced" and it expected to complete them this year.
The watchdog has rejected calls for a similar investigation into the lead pro-Remain group Britain Stronger In Europe, a decision which has angered Brexit supporters.
The regulator's director of political finance Bob Posner said it already had significant investigatory powers but would like them to be beefed up to bring it into line with other regulatory bodies.
Warrants
He suggested the time it had taken for the Information Commissioner to get approval to enter the premises of data mining firm Cambridge Analytica had highlighted some of the difficulties regulators faced.
"We do have the ability to acquire information, visit premises and get warrants and we haven't had difficulty in acquiring documents, either voluntarily or seizing them," he said.
"Having seen the experience of the Information Commissioner... there is something about enhancing those powers and the immediacy of obtaining documents that seems more pertinent than ever.
"And not just directly to the campaigners but other bodies around campaigners which might have relevant documents."
The Commission also said it wanted stronger enforcement powers, including the scope to increase the current maximum fine it can impose beyond £20,000 per offence.
Its chief executive Claire Bassett said it should be up to Parliament to decide an "appropriate" figure.
Labour MP Ian Lucas called on the watchdog to act on evidence that "overseas actors" had paid for political ads in the UK, on Facebook and other social media platforms, in contravention of the law.
Ms Bassett said the watchdog took the issue very seriously but suggested it did not have the power to do anything about unregistered campaigners "based abroad and acting abroad".
"We have no powers to either intervene or to stop someone acting if they are outside of the UK."