Brexit: Jeremy Hunt warns Boris Johnson over customs comments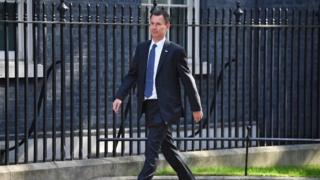 Jeremy Hunt has warned Boris Johnson his public criticism could undermine the UK's Brexit negotiating position.
The health secretary told BBC Radio 4's Today he thought "it's important that we have these debates in private".
The UK government is currently deciding which form of future trade relations it wants with the EU before the detailed negotiations take place in Brussels.
The foreign secretary called one of the two options - a customs partnership - "crazy", in a newspaper interview.
Mr Hunt told Today: "I do think that it is important that we have these debates in private. Not just because of collective responsibility, which is what democracy depends on, but also because this is a negotiation. On the EU side, if they see divisions in the open, they will exploit that.
"I actually think he has a very important role to play in the Government and he is the architect of the whole Brexit campaign and we are listening to what he says and we are doing what he wants.
"But I think we have to recognise that we are not the only people who read the papers in Britain - they are read across the world - and we need to give Theresa May some space.
"If we are going to have these lively debates, we should have them in private because that will strengthen Theresa May's negotiating hand."
Asked if his message would be "Boris belt up", Mr Hunt replied to the interviewer: "You could say that - I would say he's a marvellous foreign secretary but let's work as a team."
---
What are the government's options?
A 'highly streamlined' customs arrangement - This would minimise customs checks rather than getting rid of them altogether, using new technologies and things like trusted trader schemes, which could allow companies to pay duties in bulk every few months rather than every time their goods crossed a border
A customs partnership - This would remove the need for new customs checks at the border. The UK would collect tariffs set by the EU customs union on goods coming into the UK. If those goods didn't leave the UK and UK tariffs on them were lower, companies could then claim back the difference.
---
The UK is committed to leaving the current customs union when it exits the EU on 29 March 2019 and ministers are under pressure to agree soon on a successor arrangement amid divisions in cabinet.
Downing Street has proposed two options but leading Brexiteers in the cabinet, including Boris Johnson and Michael Gove, have been openly sceptical of the customs partnership, believed to be the PM's preferred option.
Writing in the Sunday Times, Mrs May promised a solution which ensured frictionless trade, enabled the UK to strike trade deals around the world and which did not result in a hard border on the island of Ireland.
Speaking after meeting his French counterpart in London, Mr Johnson said he agreed with Mrs May, saying "we think that is possible, she thinks that is possible, so that is the way forward".
But French foreign minister Jean-Yves Le Drian said the time was approaching for the UK to make up its mind.
"I think it is essential that at the (EU summit) meeting in June there should be important progress," he said.
"There was an agreement in principle with regards to withdrawal but it hasn't been completed and now we have to go to definitive decisions, and the responsibility for those is with the British side."
As debate continues over which type of trade deal the UK wants with the EU post-Brexit, Mrs May is holding three meetings with large groups of Conservative MPs in Downing Street.
Assistant political editor Norman Smith described it as a "factual" presentation of the customs options rather than making the case for either of the two.
He said those invited - including former ministers Priti Patel, Damian Green, Grant Shapps, Cheryl Gillan and Maria Miller - were told that neither models would work "in their current form".
Mr Shapps, who called for Mrs May to consider her position last year, told the BBC he welcomed No 10's "genuine attempts" to keep MPs informed and not to railroad them in supporting one particular route.
"It was very much 'here are the advantages and disadvantages of one and the other and you can now see what we are having to deal with'," he said.
Damian Green, the former first secretary of state, said he expected a revised version of the alternative "maximum facilitation" model - which would use technology to ensure the smooth flow of goods at the border - would eventually prevail, although he questioned whether this would be up and running in time.
"It seems to me overwhelmingly likely that we will and should end up with some kind of compromise," he told BBC Radio 4's Westminster Hour.