Iran deal: A failure of British and European diplomacy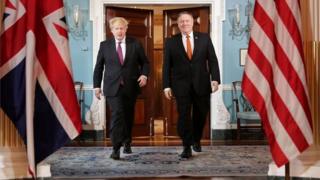 Donald Trump's decision to withdraw the US from the Iran nuclear deal represents a failure of British, French and German diplomacy.
They were unable to persuade the US president to change his mind.
But it also marks the start of the next, and perhaps harder, task of trying to hold what is left of the agreement together.
All three countries have promised to stay in the deal, known by its acronym the JCPOA. All three countries have promised to work with the remaining signatories to uphold the agreement.
The key question will be how far the UK and other European countries are ready and able to go to protect their banks and firms from US sanctions if they do business with Iran.
This is the crucial point: For the deal to survive in some form, for restrictions to remain on Iran's nuclear ambitions, the UK and other European nations will have to ensure there are continuing economic benefits for the Iranian people.
And that means continuing to trade with Iran. And that will not be easy.
UK banks and businesses may be even more reluctant to trade with Iran if they risk severe US penalties, such as restricted access to American capital and markets.
And the Iranian people may be even more sceptical about a deal which many believe already has failed to deliver what they were promised it would in terms of jobs and money.
Diplomatically, Mr Trump's decision leaves the UK in an uncomfortable position.
It has expressed its "regret and concern" about the actions of a longstanding ally with whom it clearly does not have a special relationship.
And the UK also finds itself alongside traditional opponents, such as Russia, in defending the JCPOA.
The one upside is that since the alleged Russian chemical weapons attack in Salisbury and the US withdrawal from the Iran nuclear deal, the UK has found itself deepening its diplomatic ties with France and Germany.
And who would have predicted that at this stage of the Brexit negotiations?