Iran nuclear deal: Johnson courts Trump on Fox & Friends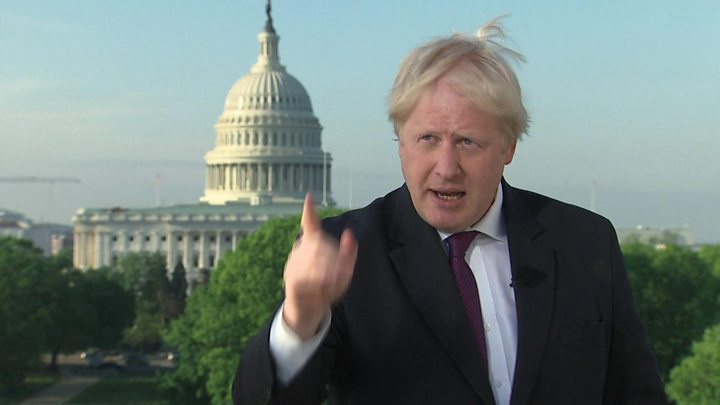 UK Foreign Secretary Boris Johnson has appealed to US President Donald Trump on his favourite morning TV show not to tear up the Iran nuclear deal.
Appearing on Fox & Friends, Mr Johnson urged the president not to "throw the baby out with the bathwater".
While in Washington, Mr Johnson met Secretary of State Mike Pompeo, but he did not get to see the president.
Mr Trump later said he would announce his decision on the Iran nuclear accord on Tuesday afternoon.
He has until 12 May to decide whether to stick with the pact - which he has called "insane".
Under the international deal, the Islamic Republic has limited its nuclear activities in return for eased economic sanctions.
What did Johnson say?
Appearing on Fox & Friends on Monday morning, the British foreign secretary said Mr Trump was "right to see the flaws in the deal", though he argued they could be fixed.
The foreign secretary said without the accord, "Plan B does not seem, to me, to be particularly well developed at this stage".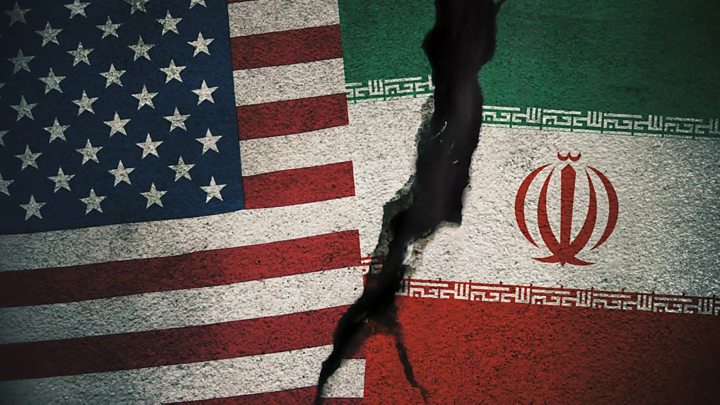 He said: "If you do that you have to answer the question what next? What if the Iranians do rush for a nuclear weapon?
"Are we seriously saying that we are going to bomb those facilities at Fordo and Natanz?
"Is that really a realistic possibility? Or do we work round what we have got and push back on Iran together?"
Mr Johnson added: "There doesn't seem to me at the moment to be a viable military solution."
In a separate interview during the visit, Mr Johnson raised the prospect of Mr Trump winning the Nobel Peace Prize.
"If he can fix North Korea and if he can fix the Iran nuclear deal then I don't see why he is any less of a candidate for the Nobel Peace Prize than Barack Obama, who got it before he even did anything," Mr Johnson told Sky News.
Mr Johnson also wrote a New York Times op-ed arguing that "only Iran would gain" from abandoning nuclear restrictions that "handcuff" the Islamic Republic.
What did Trump say?
Shortly before promising a decision on the deal on Tuesday, Mr Trump accused former Secretary of State John Kerry of conducting "possibly illegal Shadow Diplomacy" on the Iran deal.
The suggestion of illegal activity could be a reference to the Logan Act, a more than 200-year-old law aimed at stopping US citizens conducting foreign affairs without the permission of the US government.
The Boston Globe reports that Mr Kerry recently met Iranian Foreign Minister Javad Zarif in New York to discuss how to preserve the agreement, which they both helped negotiate with world powers.
In Monday's tweet, Mr Trump said Mr Kerry "created this MESS in the first place!"
Why are there differences among the allies?
Britain, France and Germany have been working behind the scenes for weeks in an effort to preserve the agreement, which was sealed during the Obama administration, and includes Russia and China as signatories.
Mr Trump has said the deal's terms are too lenient as it limits Iran's nuclear activities for only a fixed period and fails to stop development of ballistic missiles.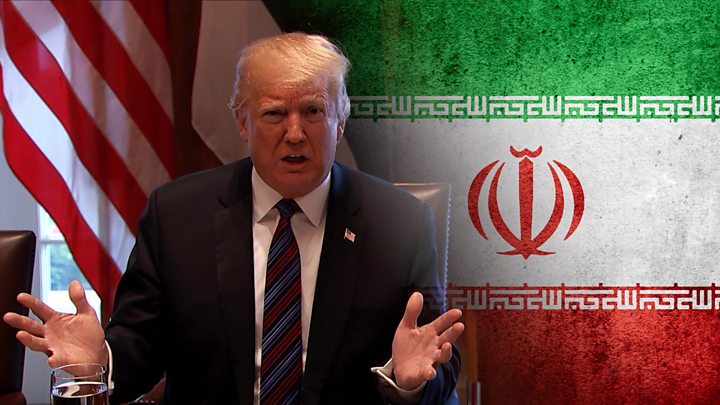 German Chancellor Angela Merkel, French President Emmanuel Macron and UN Secretary General Antonio Guterres have all warned Mr Trump not to walk away from the deal.
Mr Macron said he agreed the pact should have wider terms and address some of Mr Trump's concerns. He also said he feared Mr Trump would pull out.
What has Iran said?
President Hassan Rouhani said the US would face "historic regret" if it pulled out.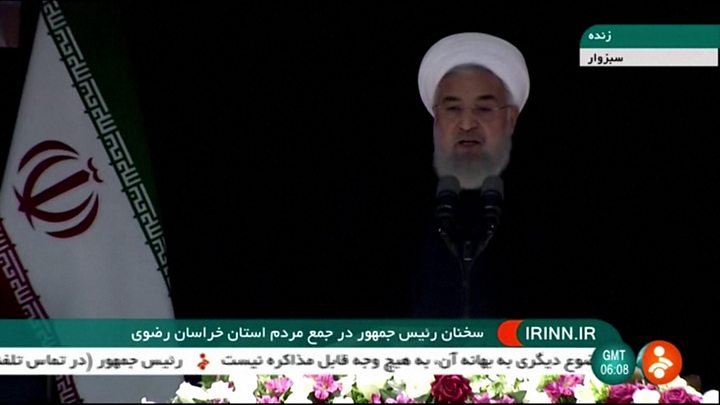 In remarks carried live on state television, he said Iran had "a plan to counter any decision Trump may take and we will confront it".
But he also hinted Iran could work out a deal with other signatories, excluding the US.
Mr Rouhani said: "If we can get what we want from a deal without America, then Iran will continue to remain committed to the deal. But if not, Tehran will continue its own path."
Iran has said documents produced last week by Israel accusing the Islamic Republic of entering the deal under false pretences were a rehash of old allegations already dealt with by the UN's nuclear watchdog.