Local elections 2018: Labour 'quietly satisfied', Tom Watson says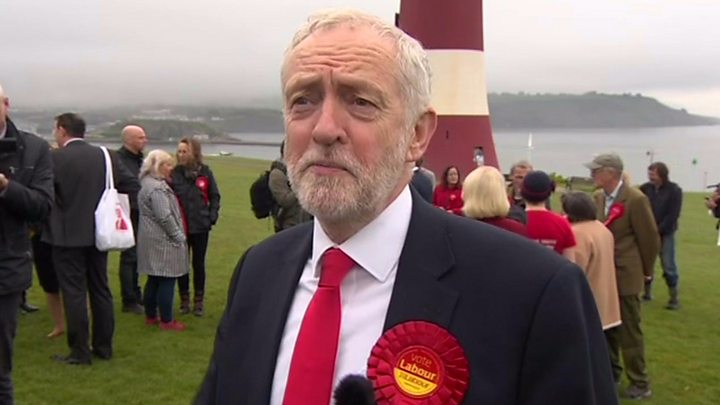 Labour is "quietly satisfied" with its performance in the English local elections, the party's deputy leader has said.
Tom Watson said Labour had "consolidated" gains it made in last year's general election.
Labour won Plymouth from the Tories and became the largest party in Trafford, taking seats from the Conservatives.
But it failed to gain any London boroughs from the Tories - although it gained control of Tower Hamlets.
Based on the results, the BBC's projected national share of the vote puts both Labour and the Tories on 35%.
Across the 150 council elections it won control of three authorities and lost three, with 2350 councillors, a net gain of 77 seats.
How did Labour do?
BBC polling expert Professor John Curtice
Labour's projected 35% is the party's best performance in a projected national share since 2012 when it scored 38%. However, whereas in 2013, 2014, and 2016 the party was estimated to be narrowly ahead of the Conservatives, this time it is only neck and neck with them.
Nevertheless Labour are able to claim that, relative to the Conservatives, although not in terms of the party's absolute share of the vote, their performance was better than in last year's general election.
Meeting activists in Plymouth, Mr Corbyn said there was "much more to come" from his party, and "it's going to get even better".
"In these elections we have won seats across England in places we have never held before," he said.
But despite winning back control of Tower Hamlets - which previously had 17 independent councillors - Labour did not make the breakthroughs in London that some in the party had hoped for.
Last year London Mayor Sadiq Khan said there was "no corner" of the city where the party could not win and insisted they could challenge the Tories "even in their crown jewels of Wandsworth and Barnet".
Shadow chancellor John McDonnell raised the prospect last month of the party securing a "significant victory" in Hillingdon.
And shadow Brexit secretary Sir Keir Starmer recently told supporters to "make history", adding: "Imagine the headlines on election night: Wandsworth, Labour gain."
Labour did not win any London councils from the Conservatives, who increased their majority in Barnet, where the row over anti-Semitism in the party was blamed for the poor showing in a borough with one of the UK's largest Jewish populations.
"There is no doubt Jewish community has sent us a message," Mr Watson said.
Labour MP Chuka Umunna, a critic of Mr Corbyn, called for a "proper post-mortem", adding: "You would expect after eight years of Tory government and in the wake of the resignations of several senior ministers... Labour to be making far greater gains."