Boris Johnson: EU customs pledge was 'key' to local election results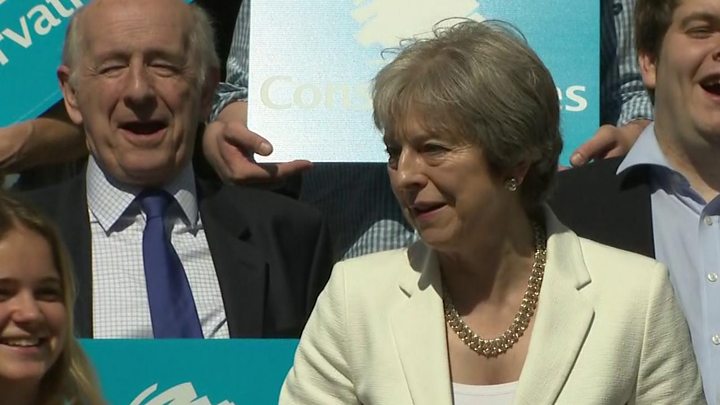 Promising to leave the EU's single market and customs union has been a "key part of Tory electoral success", Boris Johnson has claimed.
On Twitter, the foreign secretary said Labour had been "abandoned" in many Leave-supporting areas and was not trusted to "deliver Brexit".
It was a mixed night for the Tories, who saw off a Labour challenge in London and gained four councils.
But they lost control of Trafford and the Lib Dems gained Richmond in London.
Across the 150 council elections, they won control of four councils and lost control of six, with 1332 councillors, a net loss of 33 seats overall.
Based on the results, the BBC's projected national share of the vote puts both the Tories and Labour on 35%.
How did the Tories do?
BBC polling expert Professor John Curtice
At 35% the Conservatives' estimated vote is three points down on what it achieved in last year's county council elections and is on a par with its performance in the local elections held on the same day as the 2015 general election.
However, it is better than its performance in any of the local elections held between 2012 and 2014 and the local elections in 2016. The Conservatives will therefore be able to claim that this is a relatively credible performance for a party that is in government.
Mrs May visited activists in Wandsworth and Barnet after their results were declared.
She said Labour "threw everything" at Wandsworth but had "failed", and in Barnet, where the Tories gained control of a previously hung council, she claimed "vile anti-Semitism" going "unchallenged" in Labour was a factor.
As with last year's general election, the Tories seem to have benefited from the demise of UKIP, which has lost almost all of its councillors, with the sharpest increase in vote share coming in strongly Leave-supporting areas.
The Tories picked up Basildon and Peterborough, which were previously under no overall control, and won Redditch from Labour.
Mr Johnson, the figurehead of the EU referendum's Leave campaign, praised the PM's "clear" policy on the customs union - one of the most hotly-debate parts of Brexit at the moment - and the single market.
But in Remain-backing Richmond-upon-Thames, the Liberal Democrats took control, the flagship Greater Manchester authority of Trafford went to no overall control and the Tories lost Plymouth to Labour.
Party chairman Brandon Lewis said it had been a "good night" for his party, adding: "Eight years into a government, Labour was losing 4,000 councillors, whereas we at the moment are holding councils and in some areas making positive inroads."