Local elections 2018: The results to look out for and what they could mean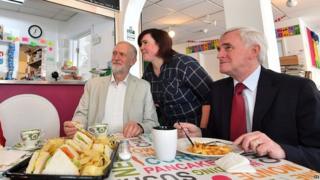 The local council elections in England are being held in predominantly Labour-held areas. The party holds more than half the seats that are being contested.
So with the two main parties neck and neck in national polls, you would expect Labour to win more seats given that they are playing on home turf.
But there is still room for improvement.
In 2014 - the last time many of the seats were contested - the party missed out on winning some of its target councils because of a UKIP surge - in what was its second best local election result.
The Projected National Share of the Vote - which seeks to calculate the share of the vote as though the whole nation had gone to the polls, and not just in the contested council areas - from 2014 put Labour at 31%, two points ahead of the Conservatives with UKIP on 17%.
UKIP gained 161 seats in 2014 but because of boundary changes the party is defending only 126 of them now.
But an analysis by election gurus Rallings and Thrasher - who have studied the result of local council by-elections in eyes-glazing-over detail - suggest the party could lose around 125 of these. Yes, that's right - almost all of them.
So a bad night for UKIP seems likely. Where their votes go, however, will be interesting.
How to follow on the BBC
There are Election 2018 special programmes from 23:45 BST on BBC One, continuing on the BBC News Channel and then on BBC Two for most of Friday afternoon.
BBC News Online has rolling coverage as all the results come in, with all the reaction and analysis as it happens on BBC Election Live
On radio there will also be full coverage on BBC Radio 5live and on BBC local radio
Tory targets
At the general election last year, a collapsing UKIP vote didn't translate in to an across-the-board boost for the Conservatives.
So areas to watch out for include Dudley, the black country council where Labour is the largest party but the second-placed Conservatives are in control with the help of the seven UKIP councillors who hold the balance of power.
Nearly seven out of 10 voters there backed Brexit in the referendum. So this is a good test of whether the Conservatives can sweep up ex-UKIP votes or whether a mixture of local issues and any discontent at how Brexit is being handled by the government can help Labour.
In Basildon and Peterborough the Conservatives seem more confident of benefiting from a UKIP retreat, and gains here could potentially mask overall losses nationally.
Calderdale in Yorkshire provides a slightly different test. Again, it's a Leave area. Labour is the largest party in a hung council and is hoping to take overall control.
In 2017, the parliamentary seats saw a swing to Labour. So if the party fails to improve this may be a sign that, outside London, support for the party is waning and not building since its extraordinary general election performance.
Equally, it's a test for the Conservatives, too. After a disastrous general election campaign, can they show progress in areas that would be highly desirable for them to win back if they hope to regain a parliamentary majority?
And another clue to the relative standing of the two parties in the urban areas in the south of England will be the outcome of the Tory/Labour dogfights in Swindon and Plymouth.
London was different in 2014 - Labour won more than half of the council seats in the capital, and gained the highest share of the vote at 43%.
And it's different now. Six out of 10 voters in London voted to remain in the EU.
Even though the Labour frontbench often restates its respect for the referendum result, in many parts of the city the party has been more successful than the pro-EU Lib Dems at picking up Remain votes.
So Labour expects to do even better than 2014 - but has had trouble managing expectations.
Labour and London
London Mayor Sadiq Khan has confidently talked about there being "no no-go areas" for Labour in London now.
There are special circumstances in Conservative-controlled Kensington and Chelsea, following the Grenfell disaster. Elsewhere, the result in Barnet could indicate whether the anti-Semitism row has hurt Labour electorally. Labour hopes to take it from the Conservatives.
There are about 50,000 Jewish voters in this north London borough and in some wards how they cast their ballots could be decisive.
Labour has also been hopeful of taking Wandsworth in south London from the Conservatives for the first time in four decades.
They are hoping the 11% of the electorate that are EU citizens will bother to vote, and vote Labour as a protest against how the government has handled citizens' rights.
It's quite an ask and Labour would require around an 8% swing to take the borough.
So if they win it's a sign of a very good night for Labour in London - and that a Jeremy Corbyn-led party can win in areas that even Tony Blair at the height of his popularity couldn't conquer.
But retaining Wandsworth doesn't mean it will be a good night for the Conservatives. A genuine recovery would see them not just holding territory but winning back councils such as Croydon that were lost in 2014.
And the eminent psephologist Sir John Curtice believes that the government's handling of Windrush could adversely affect Conservative performance in the capital.
What about the Lib Dems?
Unlike Labour, and perhaps sensibly, the Lib Dems have been managing expectations.
Party leader Sir Vince Cable told me that he hopes to pick up "one or two councils" and simply hopes the worst is over for his party.
The two councils would be Kingston and Richmond in south-west London, former Lib Dem strongholds where voters backed Remain in the referendum... although the party insists it has been talking more about the bins than Brexit on the doorstep.
But they also have to defend their control in nearby Sutton - one of the few areas of London where a majority of voters backed Leave.
Outside London, Woking in Surrey seems their best prospect in a head-to-head battle with the Conservatives.
And the Greens?
They don't expect to take control of councils but with around one in 12 voters backing the Green Party in the London-wide assembly elections in 2016 they are hopeful of at least gaining more seats across the capital.
Outside London, some contests are likely to be genuinely dominated by local issues - will Labour lose out in Birmingham, for example, where there has been a bitter bin dispute? And will the tree-felling frenzy in Sheffield allow the party's opponents to put down roots?
There will be a dizzying amount of spin from the parties.
So what are the national benchmarks?
Well there are different measures but Rallings and Thrasher's study of recent council by-elections suggest that if Labour gains more than 200 council seats the party is outperforming recent results.
Losing more than 75 seats wouldn't be great for the Conservatives.
The Lib Dems tend to poll better in local contests than nationally and have done reasonably well in council by-elections so to perform at trend they'd need about 30 gains.
And, frankly, for UKIP the bar is low. Just holding on to any of their gains from 2014 would at least suggest the party is still with us.
Expected declaration times:
Halton: Friday midnight (all times are estimated and subject to change)
Swindon: 00:00
Basildon: 00:30
Broxbourne: 00:30
Harlow: 00:30
Nuneaton & Bedworth: 00:30
Sunderland: 00:30
Tameside: 00:30
Newcastle-Upon-Tyne: 01:00
South Tyneside: 01:00
Wigan: 01:00
Brentwood: 01:30
Bury: 01:30
Cannock Chase: 01:30
Carlisle: 01:30
Castle Point: 01:30
Chorley: 01:30
Gosport: 01:30
Rushmoor: 01:30
Tandridge: 01:30
Walsall: 01:30
Wandsworth: 01:30
West Oxfordshire: 01:30
Worcester: 01:30
Amber Valley: 02:00
Cambridge: 02:00
Derby: 02:00
Eastleigh: 02:00
Exeter: 02:00
Fareham: 02:00
Hart: 02:00
Ipswich: 02:00
Oldham: 02:00
Preston: 02:00
Rochdale: 02:00
Rochford: 02:00
Rugby: 02:00
Salford: 02:00
Sefton: 02:00
Southend-on-Sea: 02:00
St Helens: 02:00
Tamworth: 02:00
Wirral: 02:00
Stevenage: 02:15
Hartlepool: 02:30
Havant: 02:30
Lincoln: 02:30
Oxford: 02:30
Peterborough: 02:30
Plymouth: 02:30
St Albans: 02:30
Thurrock: 02:30
Trafford: 02:30
Wakefield: 02:30
Westminster: 02:30
Wolverhampton: 02:30
Barking & Dagenham: 03:00
Basingstoke & Deane: 03:00
Epping Forest: 03:00
Liverpool: 03:00
North East Lincolnshire: 03:00
Portsmouth: 03:00
Reading: 03:00
Sandwell: 03:00
Stockport: 03:00
Wokingham: 03:00
Colchester: 03:15
Cheltenham: 03:30
Dudley: 03:30
Sheffield: 03:30
West Lancashire: 03:30
Bolton: 04:00
Camden: 04:00
Coventry: 04:00
Enfield: 04:00
Hillingdon: 04:00
Redbridge: 04:00
Slough: 04:00
Sutton: 04:00
Winchester: 04:00
Croydon: 04:30
Daventry: 04:30
Ealing: 04:30
Richmond-upon-Thames: 04:30
Barnet: 05:00
Bradford: 05:00
Greenwich: 05:00
Kensington & Chelsea: 05:00
Leeds: 05:00
Merton: 05:00
Southampton: 05:00
Waltham Forest: 05:00
Welwyn Hatfield: 05:00
Hammersmith & Fulham: 05:15
Kingston-upon-Hull: 05:30
Bexley: 06:00
Brent: 07:00
Havering: 07:00
Southwark: 09:00
Gateshead: 12:00
Great Yarmouth: 12:00
North Tyneside: 12:00
Knowsley: 12:30
Kirkless: 13:00
Maidstone: 13:00
Milton Keynes: 13:00
Solihull: 13:00
Calderdale: 13:30
North Hertfordshire: 13:30
Wyre Forest: 13:30
Barnsley: 14:00
Burnley: 14:00
Craven: 14:00
Crawley: 14:00
Harrogate: 14:00
Mole Valley: 14:00
Pendle: 14:00
Rossendale: 14:00
Runnymede: 14:00
Elmbridge: 14:30
Redditch: 14:30
Reigate & Banstead: 14:30
Hounslow: 15:00
Huntingdonshire: 15:00
Hyndburn: 15:00
South Cambridgeshire: 15:00
Three Rivers: 15:00
Tunbridge Wells: 15:00
Cherwell: 15:30
Newcastle-under-Lyme: 15:30
Adur: 16:00
Blackburn with Darwen: 16:00
Norwich: 16:00
Watford: 16:00
Woking: 16:00
Worthing: 16:00
Haringey: 16:30
Bromley: 17:00
Hackney: 17:00
Harrow: 17:00
Hastings: 17:00
Islington: 17:00
Kingston-upon-Thames: 17:00
Lambeth: 17:00
Lewisham: 17:00
Newham: 17:00
Tower Hamlets: 17:00
Birmingham: 18:00
Manchester: 18:00
South Lakeland: 18:00