Former MP Peter Temple-Morris dies aged 80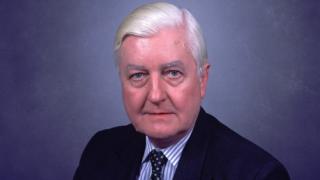 Former Conservative MP Peter Temple-Morris, who defected to Labour after the 1997 election, has died aged 80.
After crossing the floor and being given a peerage, Baron Temple-Morris sat as a Labour peer in the House of Lords for 17 years.
The son of a Tory MP, he previously represented the Herefordshire town of Leominster between 1974 and 2001.
His death was announced by Lord Speaker Lord Fowler, whom he served as a ministerial aide in the 1990s.
At the start of proceedings in the Lords, the former Conservative cabinet minister paid tribute to "his very good friend" and offered his condolences to the peer's family.
A One Nation Conservative and committed europhile, he was a barrister before entering politics in the 1960s.
He won the then marginal Leominster seat for the Conservatives in the February 1974 election, retaining it at a further six elections.
A close friend of Michael Heseltine, he was among those to encourage him to challenge Margaret Thatcher for the party leadership in 1990.
He became disillusioned with the party's direction in the 1990s, describing its decision to rule out membership of the euro and other European policies as coming from "another planet".
He was suspended by the then leader William Hague for disloyalty in 1997. He jumped ship a year later, standing down as an MP in 2001.
In 1964 he married Tahere Khozeimé-Alam, daughter of the then Shah of Iran's chamberlain.