Prime Minister's Questions: The key bits and the verdict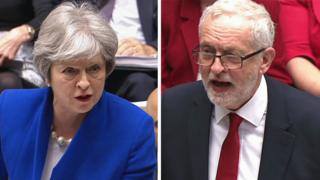 Theresa May went head-to-head with Jeremy Corbyn in the House of Commons. Here's what happened.
It looked like Windrush was going to dominate again, as Jeremy Corbyn turned his fire on the prime minister's role in the scandal as a result of her days as home secretary.
Did she feel at all "guilty" about Amber Rudd being forced to resign because of the "failures of her predecessor"?
Mrs May, with the new Home Secretary Sajid Javid sitting next to her on the front bench and Ms Rudd nodding sagely from the backbenches, listed measures Mr Javid was going to take to "do right" by the Windrush generation.
These included a full Home Office review, with "independent oversight" and "transparency" to report to MPs by the summer.
This was a pre-emptive strike by the PM. Labour thinks the government is covering up Mrs May's role in Windrush and wants to use an arcane parliamentary procedure to force the government to publish all documents relating to the scandal and the PM's now infamous "hostile environment" for illegal immigrants.
Mr Corbyn then pivoted on to questions about the economy - and why growth was slowing.
Mrs May wasn't quite finished with Windrush, insisting that the decisions that led to the crisis were taken by successive home secretaries including Labour ones.
She batted back Mr Corbyn's growth question, saying exports of goods were at a record high and real wages were up.
Mr Corbyn had a list too - rising homelessness, food bank use, higher personal debt and "more children in poverty".
The Labour leader launched into a series of attacks on public service funding cuts, which he said were crippling the NHS and leading to a rise in violent crime and harming children's education. The IFS think tank says school budgets have been cut, but the PM is in "denial", said Mr Corbyn.
Mrs May hit back with alternative stats which she said showed more funding was going into the NHS, police budgets, schools and social care.
This was all leading up to a soundbite about Thursday's local elections in England, as Mr Corbyn declared "Isn't the truth facing voters tomorrow... that with the Tories, you pay more and you get less?"
Mrs May advised Mr Corbyn to visit Hazlebourne Road in Clapham, South London, pointing out that on one side of the road in Labour-run Lambeth, a typical household pays £1,400 in council tax, and on the other side, the bill is around £700 in Conservative-run Wandsworth council.
"No clearer example can there be that Conservative councils cost you less," she said.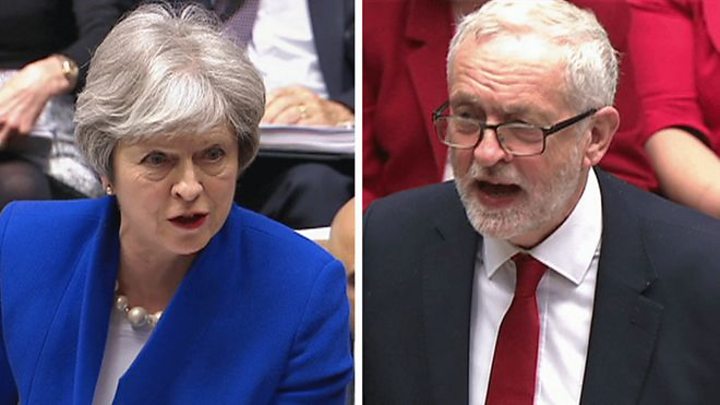 What else came up?
The SNP's leader at Westminster Ian Blackford kept up the pressure on the prime minister over Windrush, asking her about comments she had made about deportation in 2013, when she was home secretary.
Tory wag Peter Bone dubbed Theresa May the "Queen of Brexit", as he invited her to his Northamptonshire constituency to celebrate Britain's exit from the EU.
Parliament's newest backbencher Amber Rudd popped up with a non-question, asking the PM to pay tribute to Britain's emergency services, which gave Theresa May an opportunity to put on record some praise for her work at the home office in dealing with terror attacks and a "groundbreaking" crackdown on social media.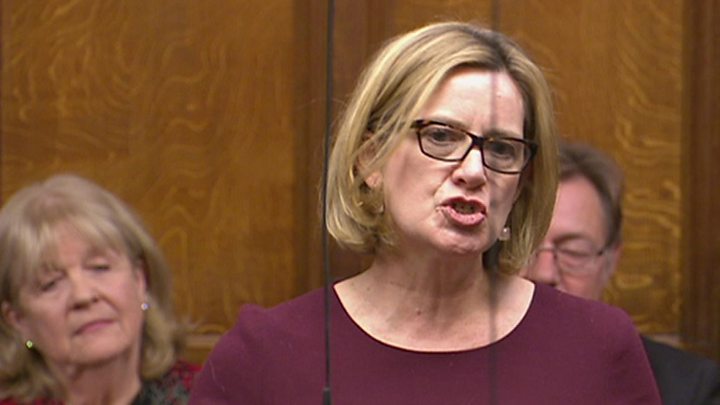 Labour's Jo Stevens asked about Sajid Javid's claim that he was not going to use the term "hostile environment" in relation to immigration any more. Mrs May claimed it was coined by a Labour minister.
The Verdicts
Here's what the BBC's Andrew Neil made of it:
And here is BBC Parliamentary Correspondent Mark D'Arcy's take on it:
A no-score draw. Jeremy Corbyn didn't try to pin the PM with a series of forensic questions about her responsibility for the Windrush debacle. Instead, with the local elections in mind, he delivered a series of attacks on the consequences of austerity for local services, schools, hospitals and the police. Each was parried by the PM - and none came close to cracking her usual defensive carapace.
But that is not the point. Those moments will provide snippets for social media in the final hours of the local election campaign, at a time when broadcasters are nervous about on-air electioneering. It wasn't a let-off, it was a choice of strategy.
The PM came prepared for a Windrush grilling, with her new Home Secretary Sajid Javid by her side. She delivered her pre-emptive strike - a promise of a "lessons learned" report before the Summer Recess - early on. And by the time the SNP's Ian Blackford and Joanna Cherry raised the subject the pressure seemed to be off her - perhaps helped by heavy heckling from the group of Tory whips positioned at the bar of the House, on the left flank of the SNP bench.
From their side of the chamber, several Conservative MPs lobbed pretty blatant local election questions to the PM, to allow her to deliver some canned soundbites. It underlined that these contests matter to all sides. Whether it actually influenced real voters is another question.
There was some interesting Brexit action on the sidelines - Peter Bone's gloriously over the top promise to erect a statue to the PM as "Queen of Brexit" in his Wellingborough constituency masked the delivery of a shopping list of Brexit objectives. So there was a sting in the flattery.
Other Brexit questioners - Plaid's Hywel Williams, Labour's Karen Buck, got typical holding answers. But Sir Bill Cash's call for the PM's key Brexit adviser, the civil servant Ollie Robbins to appear before his European Scrutiny Committee had more than a hint of menace. Mr Robbins is being targeted because he is seen as pushing the PM towards a soft Brexit solution on the customs union issue. The PM responded in a non-committal sort of way, but the mere asking highlights a developing threat on her Brexiteer flank.
Meanwhile Amber Rudd, quite unblushingly, rose to ask a non-question about the Security Services. It was essentially a signal that she had no intention of slinking away.
What pundits are saying on Twitter
And finally, for podcast fans