'Sajid will do what's in Sajid's interests'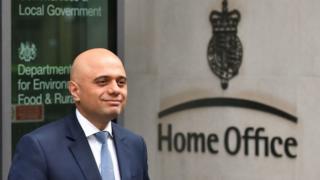 Politically neat, generally welcomed by colleagues - in the recent canon of Tory events the relatively smooth landing of this appointment is an achievement in itself.
But moving Sajid Javid in, after Amber Rudd took herself out, does not end the prime minister's problems. She and Mr Javid need to move fast to cauterise the political wounds from Windrush.
He can, and did, make a more compelling and personal case in the House of Commons, showing what seems real anger about what has happened to those caught up in Windrush, and unafraid to use his own family story to display it too.
Colleagues have called him a "good operator", and "compassionate and empathetic". Many in Westminster are pointing to his own family history as the ultimate Tory dream - the boy whose dad arrived in Britain with £1 in his pocket, who through hard work ended up in the cabinet, with a portrait of Margaret Thatcher on his wall.
His appointment is also a landmark, he is the first politician from an ethnic minority to take on one of the great offices of state - the biggest jobs in cabinet.
But whatever the presentation and the political messaging, the realities of the Windrush fiasco affect real lives. It's not going to be fixed with a new face or a more sympathetic soundbite.
For once, you might say, this is not just a Westminster soap opera, but a mess that innocent Brits have been caught up in through no fault of their own - an unintended consequence of a ratcheting up of government pressure on immigration over the years.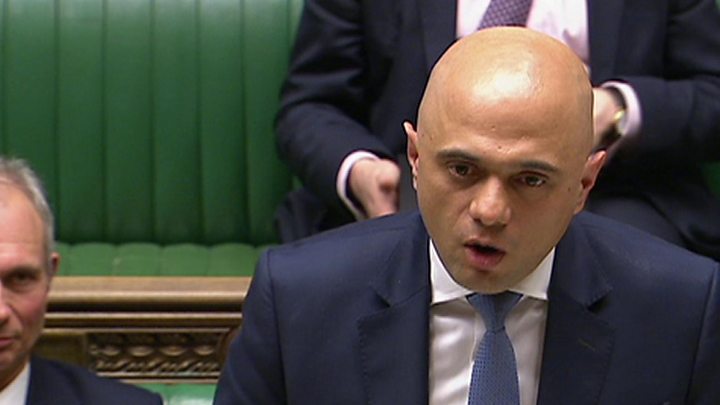 Mr Javid's first job is to get a grip of that, and fast. He could not tell MPs today whether the Home Office had carried out any deportations, despite testimony from MPs that they are hearing those stories in their constituencies.
He could only say that the government would consult on its plans for compensation, which will be overseen by an outsider. This is the start of the cleanup, not the end of the mess.
Yet he is an experienced minister, who has experienced significant pressure before - even calls for him to quit when Tata Steel was up for sale and he, as business secretary, was on the other side of the world.
'Glittering coffin'
And, as communities secretary, he's been trying to deal with the fallout of the Grenfell tragedy and the understandable anger and frustration of those affected.
The Home Office however is a different undertaking altogether, described by one former minister as a "glittering coffin" for political careers.
And it isn't just the challenge of sorting out the Windrush mess that is on his desk - serious crime, modern slavery, the huge question of immigration policy after Brexit, police reform, the list goes on.
And he'll have a key seat at the table in the government's continuing machinations over how to manage customs and the border after we leave the EU.
Hanging in the air though a different challenge - how much can he break away, how much does he want to escape, from his boss's legacy in Marsham Street?
Amber Rudd too had to deal with that inheritance. Although she may have had different views to the prime minister in several areas, even some who know her well believe that she didn't always stand up to Theresa May enough.
Others admire her loyalty and integrity - even if she was not always on the same page as Theresa May, she had her back. As we discussed last week she might have used this crisis to move away from that legacy.
But she was a newer politician, promoted by Theresa May - part of her project, even deputising for her in major TV debates back in the last election.
Mr Javid is a rather different character. He was not, to start with, a natural ally of the prime minister. In fact, he is understood to have been rather surprised that she kept him on.
As housing secretary he pushed hard, ultimately unsuccessfully, to make bolder moves than Number 10 and 11 would accept. Already today he has made plain that he's ready to junk existing policy.
In the Commons, Mr Javid rejected the language of the "hostile environment" - the Home Office term for trying to make life difficult for illegal immigrants in the UK so they want to leave.
His friends say he has an understanding with Number 10, that although the policies he inherits were largely designed by the prime minister, he will be his own man.
But that "understanding" could rankle Number 10 over time if he strays too far from the prime minister's line.
Sources suggest like most of the cabinet he is no fan of the overall immigration target to get the net numbers under 100,000. As and when he is asked about it, will he have the guts and the political capital to say its time might be up?
Would he, again like many of his colleagues would hope, feel bold enough to say publicly that he wants students to be exempt from the pressure of that target?
As a former business secretary he will be well versed in those arguments. As housing secretary he said that if brickies were needed from abroad, immigration restrictions must not stand in the way of building the houses the country desperately needs.
The home secretary though is not a deliberate disrupter. And going on his department's recent record, it's hard to imagine the damage from Windrush can be made suddenly to disappear.
But he is a politician with ambition, and a huge opportunity in front of him that could make him a very serious contender for the top job, if, and it's a big if, he is able to get it done.
Someone who worked alongside him said "ultimately Sajid will do what is in Sajid's interests".
Theresa May might find a colleague rather eager to break with her past, and make his own mark instead.