Labour activist expelled after remarks to MP at anti-Semitism event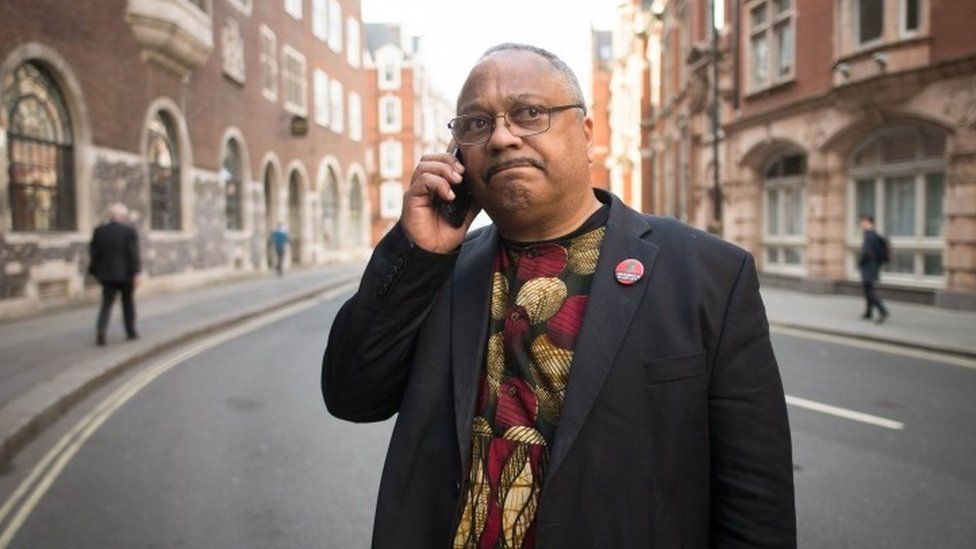 Labour has expelled an activist for bringing the party into disrepute after he criticised a Jewish MP at the launch of an anti-Semitism report.
Marc Wadsworth accused Ruth Smeeth of working "hand in hand" with the media to undermine Labour.
Labour's National Constitutional Committee found he breached the party's rules and should be thrown out.
Mrs Smeeth welcomed the result but Mr Wadsworth said he would see whether he could launch a legal challenge.
The announcement followed a high-profile disciplinary hearing in which Mrs Smeeth gave evidence against him.
Before Wednesday's hearing, Mr Wadsworth - an anti-racism campaigner and Momentum activist - suggested that he was being "hung out to dry".
Mrs Smeeth branded his comments, at the launch of the Chakrabarti report into anti-Semitism, "vile conspiracy theories" while a group of MPs who accompanied her to the hearing had demanded action.
A Labour spokesman said: "The National Constitutional Committee of the Labour Party has found that two charges of a breach of the Labour Party's rule 2.1.8 by Marc Wadsworth have been proven."
"The NCC consequently determined that the sanction for this breach of Labour Party rules will be expulsion from membership."
The MP thanked all those who had supported her throughout what she said had been a two-year "ordeal", saying there was no place for "bullying and intimidation" within the party.
"I am relieved that after nearly two years this matter has finally been resolved," she said.
"I hope that this decision represents the first step towards a return to the values of decency and respect throughout the Labour Party."
The Jewish Labour Movement also welcomed the outcome, saying the case was "symptomatic of the ongoing delays in resolving disciplinary matters".
Mr Wadsworth said in a statement that he had been "overwhelmed by the support I've received" and intended to look at "all my options to legally challenge the decision".
He added: "I deplore anti-Semitism, anti-black racism, Islamophobia and all forms of prejudice, bigotry and discrimination that I have campaigned against all my political life and will continue to do so."
He later told reporters that Mr Corbyn, whom he described as an "old friend and comrade", had "had a go" at him after the incident and told him he could have used "kinder language".
But he said Labour's leader had been supportive since then and had told mutual friends he "doesn't see I did anything wrong".
He suggested a member of Mr Corbyn's team had contacted him on the morning of the hearing to say they were "working behind the scenes" on his behalf but would not say who this was.
The activist was supported by Labour MP Chris Williamson, an ally of Jeremy Corbyn, who said he was "astonished" by the "absurd" decision to expel the activist.
"It flies in the face of the evidence presented and offends against the principles of natural justice," he said, in a statement on Facebook.
"The NCC's [National Constitutional Committee] decision has all the hallmarks of predetermination and tramples on Labour's record of standing up for fairness."
The MP for Derby North said he would help Mr Wadsworth in his efforts to "clear his name".
But Labour MP Anna Turley, one of those who accompanied Mrs Smeeth to the hearing, said the decision was the right one as Labour should be in the "vanguard of the fight against prejudice and hate".