Windrush: Corbyn urges review of 'cruel' immigration policy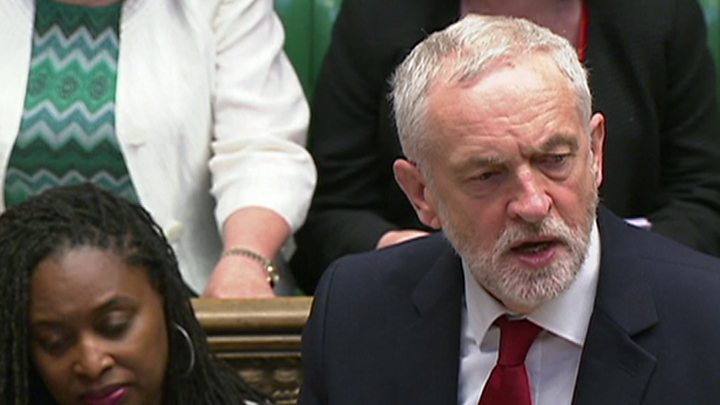 Jeremy Corbyn has called on Theresa May to review her "cruel" immigration policy and abandon "bogus" targets, in response to the Windrush scandal.
He said the PM had been warned a 2014 law aimed at intensifying the "hostile environment" for illegal migrants would also affect those in the UK legally.
Mrs May said the public wanted action on illegal immigration.
She rejected Mr Corbyn's call for Home Secretary Amber Rudd to quit in clashes at Prime Minister's Questions.
Home Affairs committee chairwoman Yvette Cooper also claimed that Commonwealth High Commissioners had warned the Foreign Office about Windrush case problems back in 2016.
The BBC understands that the Home Office and No 10 were both told about the problem after the issue was raised in a letter to the Foreign Office sent by the Barbados government.
The Windrush generation - which includes anyone who moved to the UK from a Commonwealth Caribbean country between the 1940s and 1970s - are in the UK legally but some have been threatened with deportation if they did not have paperwork to prove it. The government has set up a task force to help them formalise their status.
Clashing over the row in their weekly Prime Minister's Questions Commons session, Mr Corbyn said Mrs May, when she was home secretary, had been warned by ministers and officials that the 2014 Immigration Act - which required migrants to show paperwork to access services such as healthcare and housing - would have dangerous repercussions.
"These policies swept up British citizens and legal migrants causing them immense suffering, as she was warned," he told MPs.
"Can the PM send a clear message and tell us the hostile environment is over and that her bogus immigration targets that have driven this will be scrapped?"
He called for the 2014 Act and other related legislation - including curbs on legal aid - to be reviewed.
Urging the home secretary to quit, Mr Corbyn said Ms Rudd had "inherited a cruel policy" when she succeeded Mrs May in 2016 and had made it even tougher.
Mrs May rejected claims she was "ignoring" the plight of the families of Caribbean migrants who have had their residency rights questioned, repeating the government's promise they and others from Commonwealth nations who came between 1948 and 1973 would now be offered British citizenship free of charge and would be helped in clarifying their status.
But she said a distinction should be drawn between those people who had settled in the UK legally and contributed to British life and those with no right to be in the UK.
"The Windrush generation are here legally but there are people who are in this country illegally," she said.
"What the leader of the opposition is talking about is illegal immigration and what people up and down the country will tell him is that we should deal with illegal immigration."
She cited a number of former shadow ministers, including Yvette Cooper, whom she said had backed action on illegal immigration but Ms Cooper, now Home Affairs committee chair, told the PM not to "hide" behind her but rather accept responsibility for government failings.
"Do not try to hide behind civil servants when she set the policies instilled in them under a culture of disbelief and when the High Commissioners told us this morning that they had warned the Foreign Office about the Windrush generation immigration problems in 2016," Ms Cooper told MPs.
During the PM questions session, Labour MP David Lammy said he had raised a Windrush case with then Home Office minister Damian Green in 2011 and said that seven years on the man, who came to the UK at the age of six in 1959, had still not had his status confirmed.
The Prime Minister's Questions clashes came amid evidence of tensions within the government over policy - the BBC understands that at a recent cabinet meeting Foreign Secretary Boris Johnson urged Theresa May to introduce an amnesty for illegal migrants in the wake of the Windrush scandal.
The foreign secretary was understood to have urged the prime minister to consider a "broader" amnesty for those migrants who may have been in the UK illegally but who have nevertheless played a "constructive" role in society.
He suggested these would be illegal migrants who had been in the UK for between 10 and 15 years but had "an impeccable record", which would mean they had paid their taxes and did not have any criminal convictions.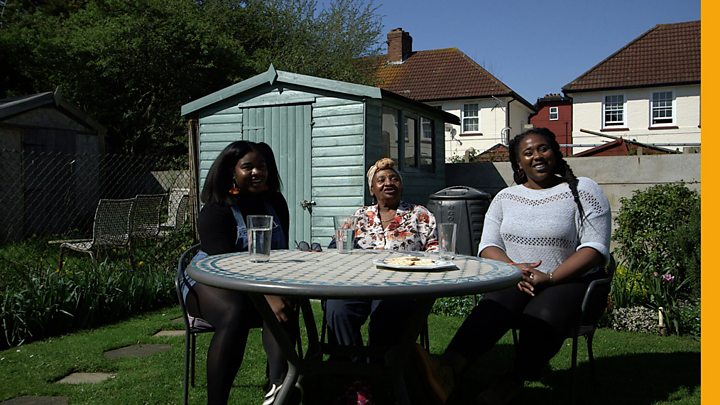 It is understood Mrs May told Mr Johnson most opinion polls showed that both Remain and Leave supporters backed strong immigration controls.
A government source rejected press reports of a row between the two, saying they had had "a cordial and friendly exchange".
The source added: "What are cabinets for if not to air these sort of issues?"
Mr Johnson first floated the idea of an amnesty for some illegal immigrants when he was Mayor of London.