Conservatives pledge 'cheaper and better' local councils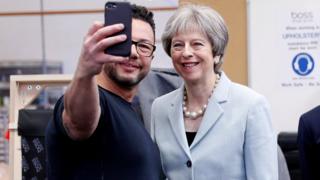 The Conservatives say their councils offer "cheaper and better services" as they target Labour seats in the local elections across England.
Party chiefs have previously admitted the 3 May elections will be "really difficult" for them, with London representing a particular challenge.
Chairman Brandon Lewis said the Tories were fighting for "every single vote".
Seats on about 150 councils are up for grabs, on metropolitan, unitary, borough and district authorities.
In 2014, the last time most of these seats were contested, it was a good night for Labour, which gained control of six councils and added more than 300 councillors to their ranks.
The Tories lost 236 seats and relinquished control of 11 councils, meaning Labour has more councils and seats to defend this time around.
In London, every seat is up for grabs, and earlier this year Mr Lewis said the capital represented a "very challenging dynamic" for his party.
Speaking on Monday as Theresa May paid a campaigning visit to the target area of Dudley, Mr Lewis told the BBC his party would be campaigning in "Labour areas", adding: "We're out there working hard for every single vote in every council division on every council."
Traditionally governing parties have often suffered in mid-term local elections, but the Conservatives are currently the largest party in local government.
Mr Lewis said they were fielding "pretty much a record number of candidates" this time around.
Labour leader Jeremy Corbyn has accused the Tories of expecting voters to pay "more for less" and has urged people to use the local elections to tell the government "enough is enough".
As well as the council elections, mayors in Hackney, Newham, Tower Hamlets, Watford and the Sheffield City region will also be elected.