Jurgen Klopp: Brexit 'makes no sense at all'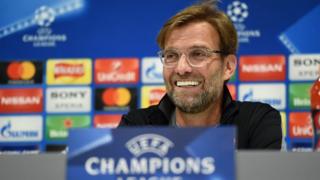 Liverpool manager Jurgen Klopp says the UK should have another vote on leaving the European Union because "nobody has any idea how it will work".
Klopp told The Guardian people should "vote again with the right information" because what was said during the campaign "makes no sense at all".
The German manager said the EU was "not perfect" but claimed Leave voters regretted their decision.
The UK is set to leave the European Union in March 2019.
During the UK's referendum campaign two years ago a few people involved in football went public with their views.
Former Manchester United star David Beckham backed the Remain side, while his ex-England colleague Sol Campbell supported Leave. Former England manager Sam Allardyce - now in charge of Everton - once picked Leave in a Q&A for Paddy Power.
Liverpool boss Klopp - speaking ahead of his team's Champion's League semi-final - said in his Guardian interview the UK's future relationship with the EU should not have been decided "in a moment".
He added: "We are all influenced by the way only some of the argument is given, and once the decision is taken nobody gives you a real opportunity to change it again.
"The choice was either you stay in Europe, which is not perfect, or you go out into something nobody has any idea how it will work."
Referring to the narrow margin of the result, he said "49% are not happy with the decision that's going to change the country" and claimed 51% "realised pretty early after the vote: 'What have we done?'"
He added: "Let's think about it again and let's vote again with the right information - not with the information you've got around the Brexit campaign. They were obviously not right, not all of them. It makes no sense at all."
Opinion polls suggest voters are still divided on Brexit, with no significant shift towards Remain from 2016 Leave voters.
And while Remain campaigners are calling for another referendum to be held on the final deal between the UK and the EU, this has been ruled out by both the Conservative and Labour leaderships.