Delayed Brexit immigration plans 'due in months'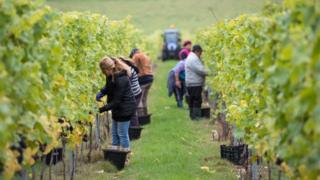 Delayed proposals for Britain's post-Brexit immigration policy will be published "in the coming months", Downing Street has said.
The immigration bill would establish new rules for EU migrants to the UK after free movement ends.
An official policy document had been expected last autumn and the Times reports a "cabinet row" over delays.
The PM's spokesman said ministers were "confident" the new system would be ready "for when we leave the EU".
The immigration bill was in last year's Queen's Speech - it would enable the government to end the free movement of EU nationals into the UK but ministers said it would allow the country to attract "the brightest and the best".
Last October, then immigration minister Brandon Lewis said a White Paper would be published in autumn 2017 with the bill being brought forward "in the New Year".
In February, the home affairs committee noted there was still "considerable uncertainty about when the White Paper will be published" and said the delays had caused "anxiety for EU citizens in the UK, uncertainty for UK businesses and concern in Parliament".
The Times reported on Friday that Brexit-supporting ministers were putting pressure on Home Secretary Amber Rudd to speed up the bill, amid concerns ministers want to use preferential access for EU workers as a bargaining chip with Brussels in Brexit talks.
Asked about the report, the prime minister's spokesman said: "We're considering a range of options for the future immigration system which will be based on the evidence.
"We will set out initial plans and publish a White Paper in the coming months with a bill to follow."
Ms Rudd told the home affairs committee in March that the bill would be published "early next year" to establish new rules for 2021 - arguing that the agreement reached with the EU on citizens' rights had "to a certain extent" had removed the urgency.
The Home Office said the transition period agreement meant that the immigration bill "will not be needed until after this period ends in December 2020. The bills will be brought forward when Parliamentary time allows".