Windrush: Theresa May hits back at Labour over landing cards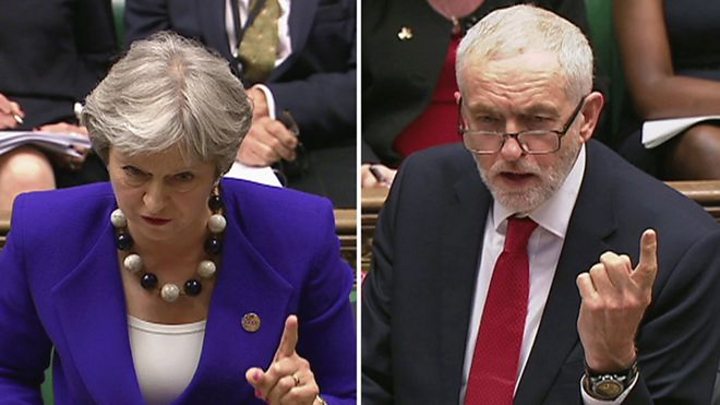 Theresa May has said the decision to destroy the landing cards of Windrush migrants was taken under Labour.
The prime minister told MPs she was not home secretary when the move was approved, saying it happened in 2009.
She apologised for the distress caused to anyone told they must leave the UK.
Labour has disputed her claim, saying the Home Office had said on Tuesday that the decision was taken in 2010 - and is demanding "clarification" from Mrs May and Home Secretary Amber Rudd.
The Windrush row erupted after it emerged that some children of Caribbean migrants who settled in the UK from the late 1940s to the 1970s had been declared illegal immigrants and threatened with deportation.
A Home Office task force set up in response to the outcry is now looking at 113 cases as a result of calls to a new hotline.
Landing cards were filled in by Commonwealth citizens arriving from the West Indies and elsewhere, and were used by officials to help subsequent generations prove they had a right to remain in the UK.
They had been stored in a basement for decades but Downing Street says the UK Border Agency approved a business case in June 2009 to dispose of paper records, including the cards.
The decision to destroy the cards themselves was taken in October 2010, after the coalition came to power. Mrs May was not involved in the decision, which was taken at official level, said No 10.
'I have always thought I was legal'
Changes to migration rules introduced when Mrs May was home secretary mean those who lack documents are now being told they need evidence to continue working, access key services or even remain in the UK.
Sixty-year-old Anthony Bryan lost his job when he received a letter informing him he had no right to remain in the UK.
He says: "It was a shock because I have always thought I was legal, I was British. I have been here from when I was eight. I didn't give it another thought."
Mr Bryan, who came to Britain from Jamaica in 1965, was held in a detention centre twice for nearly three weeks last year.
He has since been given leave to remain, but is still waiting for legal paperwork to confirm his right to stay.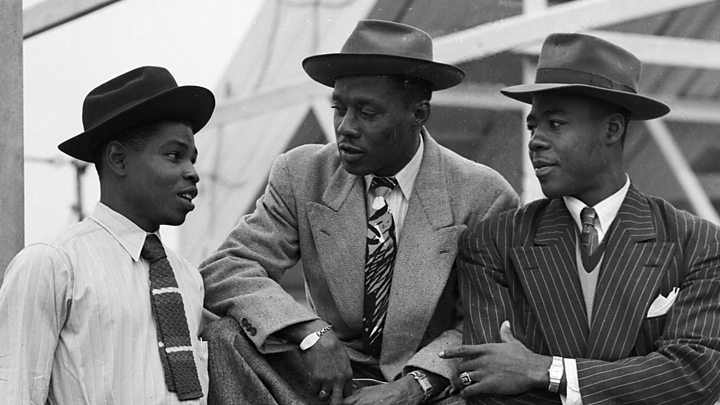 The Windrush row dominated Prime Minister's Questions, with Labour leader Jeremy Corbyn accusing the PM of "pandering to bogus immigration targets" when she was home secretary and said her efforts to create a "hostile environment" for illegal immigrants had caused "such pain for a whole generation".
"It led to British citizens being denied NHS treatment, losing their jobs, homes and pensions, thrown into detention centres like criminals and even deported, vital historical records shredded and ministers blaming officials," he said.
He said the government had shown itself to be "callous and incompetent" in the way it had destroyed the Windrush landing cards.
The PM said she would not be called "callous" by a leader who "allows anti-Semitism to run rife in his party".
Downing Street said new information was coming to light about the handling of the landing cards all the time, which was why there was a discrepancy between information given out on Tuesday and Wednesday.
But a Labour Party spokesman said the government's story was "shifting by the hour".
"First Downing Street claimed the decision to destroy the Windrush-era landing cards was made by the Home Office in 2010 for data protection reasons. Then the Home Office passed the buck to a 2010 decision by the UK Border Agency.
"At PMQs, the prime minister tried to shift the blame onto the last Labour government but was undermined by her own spokesperson minutes later, who then stated it was an operational decision, which Labour ministers would not have been aware of. Her spokesperson couldn't even say when the cards were destroyed."
Jacqui Smith, who was Labour home secretary until replaced by Alan Johnson in June 2009, told the BBC that it was "not a policy decision she had made". Mr Johnson also said he "had absolutely no recollection at all of being involved" in the landing card decision.
The prime minister and Mr Corbyn also clashed over the case of a man denied the NHS cancer treatment to which he was entitled because he did not have the right documentation.
Mrs May said Albert Thompson would get the treatment he needed, although he was not a member of the Windrush generation. He is understood to have arrived in the UK from Jamaica in 1973. Mr Corbyn, who first raised his case a month ago, said he was still waiting.
Mr Thompson's MP, Chuka Umunna, later suggested the prime minister had "misled" MPs over the case.
The prime minister had begun the session with a fresh apology to the Windrush migrants, saying: "These people are British. They are part of us."
There was no question of forcing anyone who had made their life in the UK and was here legally to leave, she said.
The prime minister also defended Home Secretary Amber Rudd amid Labour calls for her to "consider her position".
Earlier, shadow home secretary Diane Abbott accused Ms Rudd of withholding information about how many people have been wrongly detained or deported.
She told BBC Radio 4's Today the criteria used by the Home Office to establish continued residency was "arbitrary" and officials should be allowed to use their own discretion to decide on cases.
And she said it was "extraordinary" that the home secretary had not taken responsibility for the scandal and blamed officials.