Anti-Semitism row: Israel Labor halts relations with Jeremy Corbyn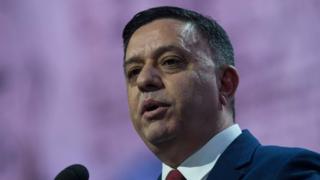 Israel's Labor Party has suspended relations with UK Labour over claims that Jeremy Corbyn has allowed "hostility" to the Jewish community.
In a letter to Mr Corbyn, leader Avi Gabbay claims he has allowed "anti-Semitic statements and actions".
And he accuses the UK Labour leader of "very public hatred of the policies of the government of the state of Israel".
Mr Corbyn said the Labor Party should have had the "courtesy" to have spoken to him before severing relations.
"I wish they would read Shami Chakrabarti's report (into anti-Semitism in Labour). I wish that they would understand that we are utterly determined in every way to drive out anti-Semitism from our society and where it exists in any party to drive it out, including my own," said the Labour leader.
"And I would be very happy to have that discussion with them. I think they should have done me the courtesy of asking me first."
In his letter, Mr Gabbay, the leader of Israel's main opposition party, hails its "long history of friendship" with UK Labour.
"And yet it is my responsibility to acknowledge the hostility you have shown the Jewish Community, and the anti-Semitic statements you have allowed as leader of the Labour Party in the UK," he adds.
He says there will be a "temporary suspension of all formal relations" between the two parties, saying they cannot continue "while you fail to adequately address the anti-Semitism in the Labour Party".
Mr Gabbay says the policies of Israel's opposition party and the ruling coalition government were "aligned" when it came to the "security of our citizens and the actions of our soldiers" and Mr Corbyn had shown "hatred" of the government's policies in these areas.
Last week, Mr Corbyn criticised the shooting of Palestinians during protests on the Gaza border.
Mr Corbyn is due to meet the heads of the Jewish Leadership Council and the Board of Deputies, who have both been highly critical of his stance, to discuss their concerns although a date has yet to be set for the talks.