Russian spy: Politicians in 'idiot' row over poisoning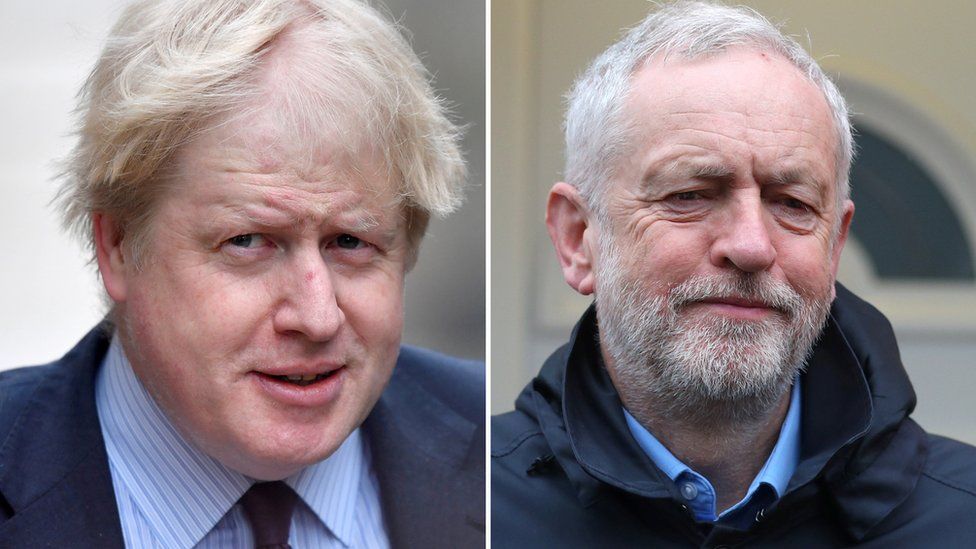 A bitter row has broken out between Labour and the Conservatives over their language and response to the nerve agent attack in Salisbury.
Boris Johnson accused Jeremy Corbyn of refusing to "unequivocally" blame the Russian state, describing him as "the Kremlin's useful idiot".
But Labour said Mr Johnson was the "idiot" having "undermined his own government's position" on the evidence.
Moscow has denied the UK government's claim that it was behind the attack.
The UK says there is "no other plausible explanation" for the incident, while Russia has accused Britain of waging a "propaganda war" against it over the poisoning of former Russian spy Sergei Skripal, 66, and his daughter Yulia, 33, on 4 March.
More than 20 countries have expelled Russian envoys in solidarity with the UK, following Britain's initial expulsion of 23 Russian diplomats.
Writing in the Sunday Times, Mr Johnson said the Kremlin had made a "cynical attempt to bury awkward facts beneath an avalanche of lies and disinformation".
He said the Russian government and state-owned media had invented 29 theories about the attack.
"There is only one thing that gives the Kremlin succour and lends false credibility to its propaganda onslaught. That is when politicians from the targeted countries join in," Mr Johnson said.
"Sadly, I am driven to the conclusion that Jeremy Corbyn has joined this effort ...Truly he is the Kremlin's useful idiot".
Fellow Conservatives joined the attack on the Labour Leader.
Communities Secretary Sajid Javid told the BBC: "There's no doubt when it comes up against this issue with Russia that we are having, this very serious issue, that Jeremy Corbyn has let the British people down."
And policing minister Nick Hurd said that while the phrase "useful idiot" was part of "the lexicon of Johnson", he added: "I feel very strongly that Jeremy Corbyn has been insufficiently clear in his condemnation of Russia."
Labour has already called for an investigation into whether Mr Johnson misled the public about Russia's involvement, in his remarks about the findings of the UK's defence laboratory Porton Down.
The party said that in an interview given to German TV last month, Mr Johnson said that "people from Porton Down" were "absolutely categorical", adding: "I asked the guy myself. I said 'are you sure?', and he said 'there's no doubt'."
But last week, the Porton Down laboratory said it could not verify the precise source of the Novichok nerve agent used, although it did say it was likely to have been deployed by a "state actor".
Speaking to the BBC on Sunday, Shadow Education Secretary Angela Rayner said: "Boris Johnson is the government's useful idiot because what he's done is create a situation where he has contradicted the evidence and overstepped the mark.
"Porton Down have been absolutely clear that they didn't say what Boris Johnson said." She said that Mr Johnson had "driven a wedge for the Russians to say there are questions on the evidence."
"I think that is really dangerous, that we have got a foreign secretary that undermines his own government's position."
Labour says Mr Corbyn "has repeatedly said the evidence points to Russia being responsible, directly or indirectly, and that the Russian authorities must be held to account on the basis of evidence".
On Saturday, the Foreign Office described a Russian request for a meeting with Mr Johnson on the Salisbury poisoning as a "diversionary tactic".
Meanwhile, the Russian Embassy has also requested a meeting with Scotland Yard over its handling of the suspected murder of Russian businessman Nikolay Glushkov.
Mr Glushkov was found dead in his home in New Malden, south London, on 12 March. Four days later the Met launched a murder investigation and an inquest heard the 68-year-old's cause of death was compression to the neck.
"For Russia this murder has a criminal as well as political dimension," an embassy spokesman said.
"Almost a month has passed since Mr Glushkov's death, and like ... with Sergei and Yulia Skripal, the British side provided no information."
Mr Glushkov was a close friend of outspoken President Putin critic Boris Berezovsky, the Russian oligarch found hanged at his Berkshire home in 2013. The Met made no comment.
The requests followed Russian Embassy criticism of the UK government's refusal - on immigration rules - to grant a visa to Ms Skripal's cousin, Viktoria Skripal, to visit Britain.
The embassy says the refusal to allow Viktoria Skripal to visit her cousin and uncle was "disappointing" and "politically motivated".
Mr Skripal was jailed by Russia for spying for Britain, but released as part of a spy swap between the US and Russia in 2010.
Yulia was visiting him in the UK when the attack happened on 4 March. She is now conscious and talking in hospital.
Salisbury District Hospital has said Mr Skripal is responding well to treatment and "improving rapidly".