What do people think about Brexit?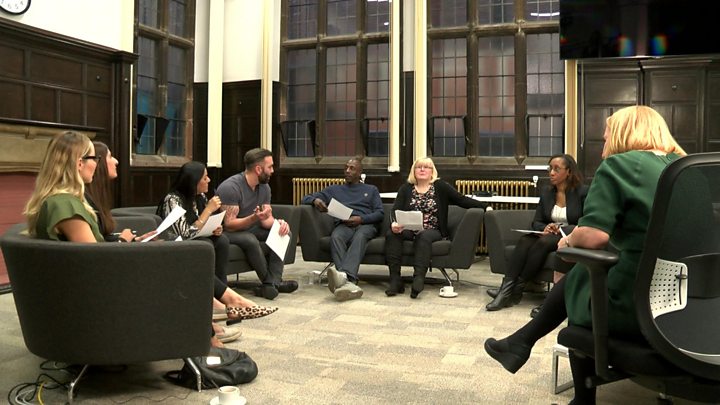 There's plenty on this blog, and on our TV and radio reporting, about the political progress of Brexit, or lack thereof - the moments where it's felt like the wheels were coming off, then wheels up, as the PM flew to Brussels in the dead of night when it was suddenly all back on.
But it was the public's decision, even if it was close, and politicians across the spectrum are still dealing with the consequences of that momentous decision.
With almost exactly a year to go what does the public make of what's being done in their name?
The polls don't seem to have shifted decisively, although you might wonder how much credibility they have these days.
So on Tuesday night, with the help of the organisation Britain Thinks, we gathered together a group of voters in Coventry - which voted just over 55% to Leave - to ask what they make of what's been going on. The group was carefully selected for different ages, backgrounds and balanced between Leave and Remain voters.
Focus groups aren't scientific, but they do give a flavour of conversations that are happening around the country. As most MPs would admit, on all sides, there is a frustration that the process is still going on.
Quite understandably most people are not paying attention to every tiny twist and turn. But even the Remain voters in the group wanted the government to get on with it - there was little appetite for the suggestion of re-running the argument, prolonging the agony.
There was no particular love for Theresa May or Jeremy Corbyn - the group branded the prime minister "very weak" - Mr Corbyn was even branded "weak as fish".
But it was striking how from the outset the group referred to Brexit as a catch-all for their wider concerns, particularly about the NHS and immigration, just as Vote Leave tied those two arguments together in the campaign, with all the controversy that flowed from that.
But there was a definite sense in the room that Brexit had been a promise of something else, a promise that not much in the last 12 months has gone very far towards keeping.
It's true that Brexit is fiendishly complicated, technical, and full of tension. None of the main political parties are sure-footed in how to respond. But in one big sense it is politically very simple.
A narrow majority of the country expressed the desire for something different, and politicians are under pressure to show that something can change.