Jeremy Corbyn and Labour's anti-Semitism issue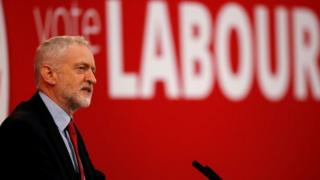 "Occasionally toxic." That's not Jeremy Corbyn's description of what he now admits are "pockets" of the Labour Party where prejudice against Jews can be found.
It's the description of the atmosphere in the Labour Party in an official 2016 report that investigated claims of anti-Semitism inside the party after concerns were raised over many, many months. There lies the problem.
Jeremy Corbyn won the Labour leadership in 2015 and even in the heat of that summer's Corbynmania fears were raised about the attitude of some of the activists and campaigners he had associated with over the years towards the Jewish people.
As one senior Labour figure says, the concern was then - as it is believed to be now by many people in the party - that "he is not anti-Semitic but he has been seen to tolerate it".
Back then, after some months of agitation, that report was undertaken to stamp out the problem, and recommended a series of ideas to root out anti-Semitic prejudice and other forms of racism too. That was in June 2016.
But it was not to be what many hoped at the time - the final page of a hot and difficult debate.
Since then many Labour MPs feel that an almost continuous flow of allegations have emerged, including evidence of Mr Corbyn's own unwitting participation in some online debates, with the party leadership accused of being slow and reluctant to take a strong stance, and the Labour machine crawling, rather than racing, to close down the problem.
The issue is not helped by the suspicion that exists between different wings of the Labour Party.
Some of Mr Corbyn's most ardent supporters believe that this is the latest attempt to undermine his leadership, rather than genuine concern.
That includes some members of the Jewish community themselves, some of whom are planning their own demonstration in response to what they see as "cynical, selective outrage", from the Board of Deputies of British Jews.
But the distress felt by many in the Labour movement about what's been happening is real.
Talk to any of the MPs who have been victims of it and that much is clear.
Jeremy Corbyn has always said that he condemns all forms of racism.
But the perception that it has taken nearly three years to drag him to apologise for this specific form of prejudice that will lead tonight to the extraordinary sight of the leaders of a major religion protesting outside Parliament against the attitude of the leader of the UK's main opposition party.