What to look out for in May's local elections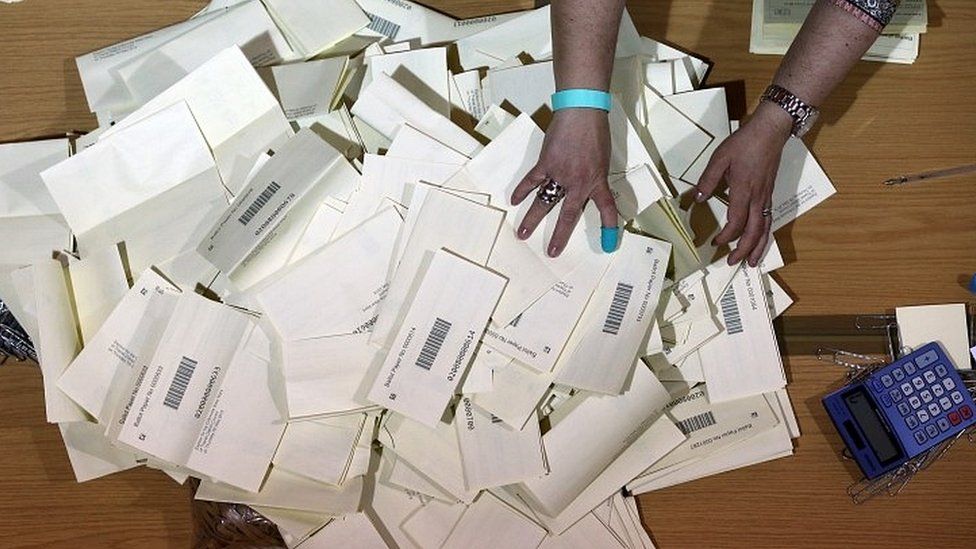 Voters will head to the polls on 3 May for the first England-wide test of electoral opinion since last year's dramatic general election.
Although there are no polls in Scotland, Wales or Northern Ireland, there is plenty of action in England - with seats on about 150 councils up for grabs.
These are a mixture of metropolitan, unitary, borough and district councils. In some, all the seats are up for grabs while in others a third are being contested.
In 2014, the last time most of these seats were contested, Labour did well - gaining control of six councils and adding more than 300 councillors to their ranks.
In contrast, the Conservatives lost 236 seats and relinquished control of 11 councils. This means that Labour has more councils and seats to defend this time around.
What are the key battlegrounds?
London, where every borough council seat is up for grabs, is shaping up to be one of the hottest battlegrounds.
Labour is hoping to build on its better-than-expected performance in last year's general election by putting pressure on the Conservatives in traditional strongholds including Wandsworth, Hillingdon and Westminster.
Barnet council, where the Conservatives lost their slender majority earlier this week after one of their councillors resigned, is seen as particularly vulnerable.
The result in Kensington and Chelsea, where the Tories have a 24-seat majority, will be particularly closely watched given the criticism of the handling of the Grenfell Tower fire and the anger of many residents.
As for Labour, it will be expected to hold on to most of the councils it already controls although the result in Harrow, where it has a majority of one, will be a good indicator of the party's popularity.
Elsewhere in London, the Lib Dems are defending Sutton - their one remaining council in the English capital - but have hopes of making gains elsewhere, such as Tory-controlled Kingston-upon-Thames.
How will Labour do outside of London?
Labour is defending about 75 local authorities, including Manchester City Council, where it holds 93 out of the 94 seats. The only other representative is former Lib Dem MP John Leech, who represents Didsbury West.
Other Labour strongholds being contested include Liverpool, Sandwell, Sunderland and Birmingham, where the Conservatives will be making the most of a recent bin strike.
A better indicator of Jeremy Corbyn's prospects at a general election may come in the Midlands, the east and the south, where Labour will need to pick up seats if he is to get into Downing Street.
Councils to watch out for include Amber Valley in Derbyshire, Trafford, Swindon and Tamworth all narrowly held by the Conservatives at the moment.
Labour is also targeting councils currently under no overall control where it is the largest party, such as Stockport, Newcastle-under-Lyme, Dudley, Walsall and North-East Lincolnshire.
What are the Conservatives expecting?
Governing parties tend to struggle in mid-term council elections.
But, as last year's general election showed, politics is pretty volatile at the moment and observers will be looking to see if there is a "Brexit effect" in areas which voted Leave in 2016.
Councils on which the Conservatives are the largest party and which may possibly be within their grasp include Basildon, Colchester, Pendle and Portsmouth.
Other results to watch out for include Peterborough, where the Conservatives are seeking to regain the control they lost following a by-election held on the same day as the general election last year.
Then there is Thurrock in Essex. The Tories are seven short of a majority but the 17 UKIP representatives quit en masse last year and are standing as independents so the outcome could be hard to predict.
How about the other parties?
The Liberal Democrats are defending six councils, including their Eastleigh and Cheltenham strongholds, and will be hoping to improve on their 2014 showing - at a time when they had spent four years in government with the Tories.
The Green Party says it is contesting 2,200 seats this time, more than half of the total. These include defending seats in Norwich and Solihull, where it is the official opposition party.
As for UKIP, their prospects could not be more different than four years ago, when they were riding high and about to win the largest share of the vote in the European elections.
At the same time, they won nearly 160 council seats - many of which have been relinquished since as a result of defections, resignations and other changes.
Of those that remain, UKIP - which has been plagued by infighting and seen its finances struggle - is probably fearing the worst in towns like Basildon, where it is defending 10 seats.
Interim leader Gerard Batten says the party will field about 530 candidates, about a quarter the number it fielded the last time these councils were contested.
Elsewhere, the BNP's only remaining district councillor, Brian Parker, is up for election in Pendle, Lancashire.
Are there any other contests going on?
Yes. There are mayoral elections in Hackney, Newham, Tower Hamlets, Watford and the Sheffield City region.
Labour won comfortably in the three London boroughs last time and will be favourites again although things will look a bit different in Newham this time, as the longstanding mayor Sir Robin Wales has been de-selected as a candidate in favour of Rokhsana Fiaz.
The Lib Dems hold the reins of power in Watford and it will be a big night for them in the Hertfordshire town where they are also seeking to retain control of the council.
The most interesting contest may be the inaugural mayoral battle in Sheffield, where whoever wins will lead the Sheffield City Region Combined Authority.
Barnsley Central MP Dan Jarvis has won the Labour nomination.
You must be registered to vote, be at least 18 on polling day, be resident in Britain and be British or a Commonwealth or a European Union citizen.
How do I register for a vote?
To take part in the polls, voters have to be registered by midnight on Tuesday, 17 April. You must register again if you've changed address, name or nationality. You can also register for a postal vote - the deadline for that is 5pm on Wednesday, 18 April. You can register to vote online - but you can't check if you are already on the register.
Who is barred from voting?
Convicted prisoners, anybody found guilty of election corruption within the past five years and anyone subject to any legal incapacity to vote.
If you are registered to vote you should have received a polling card telling you where you should go to cast your vote. You do not have to take the card with you when you go to vote. No form of identity is required. If your polling card hasn't arrived, contact the electoral services department at your local council.
No. However, the government is trialling photo ID at a small number of polling stations.
Voters in Bromley, Gosport, Swindon, Watford and Woking will be asked to provide ID.
Woking is the only areas where photo ID, such as a driving licence or bus pass, will be the only form of ID that will be accepted. If you don't have a photo ID card you can apply for a local elector card, which requires a passport-sized photo signed by someone else, confirming your identity.
In Swindon, your polling card will be accepted if you don't have photo ID.
In Bromley two forms of ID, such as a bank statement or birth certificate will be accepted, provided one of them has your address on it, as an alternative to photo ID. The same goes for Gosport, where you can also apply for an electoral identity letter.
In Watford, people should take their polling card with them - although photo ID or a valid credit or debit card will also be accepted.
Metropolitan boroughs - all seats
Metropolitan boroughs - third of seats
Unitary authorities - all seats
Unitary authorities - third of seats
District councils - all seats
District councils - half of seats
District councils - third of seats