Underpaid ESA claimants could get £20,000 repaid, says watchdog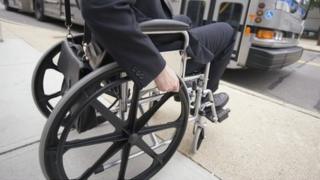 Claimants for the main sickness benefit may have been underpaid by as much as £20,000, according to a new report.
The National Audit Office said about 70,000 claimants for Employment and Support Allowance were underpaid for years due to mistakes by ministers.
It said the Department for Work and Pensions knew about the errors as far back as 2013, but started to address the problems only last year.
Ministers said they were now committed to repaying claimants.
In November, the BBC revealed huge problems in the transfer of people from Incapacity Benefit to Employment and Support Allowance.
Wednesday's report said claimants would be repaid an average of £5,000 each, although some could get as much as £20,000.
The problems arose when officials awarded claimants contribution-based ESA instead of income-related ESA, which meant they missed out on premium payments.
Backdated claims
The failure to pay the right type of benefit meant that some people could also have missed out on their children receiving free school meals and help with NHS prescriptions, according to the National Audit Office.
The debacle could cost taxpayers as much as much as £830m. This includes the cost of backdating claims as well as higher continuing benefit awards for those who were wrongly assessed.
"Tens of thousands of people, most of whom have severely limiting disabilities and illnesses, have been underpaid by thousands of pounds each, while the department for several years failed to get a proper grip on the problem, "said Amyas Morse, head of the National Audit Office.
"The department has now committed to fixing this error by April 2019, but not everyone will be repaid all the money they have missed out on."
The National Audit Office said the mistakes began as far back as 2011, that officials became aware of them in 2013 but only started properly to address the issue last year.
Welfare advisers have welcomed the belated acknowledgement by the department of the problems but have criticised ministers for limiting their liability.
The DWP says a court judgment means it has to backdate payments only until October 2014, a decision the National Audit Office says will mean up to £150m will not have to be reimbursed.
'Shoddy' administration
Daphne Hall, who advises claimants on their welfare rights, said she had no sympathy for DWP as it had clearly failed to follow its own guidance.
"As a result some of the most severely disabled people have lost out on thousands of pounds that they will never get back," she told the BBC.
Correcting the error will cost the DWP £14m in administration costs, with hundreds of officials given the task of repaying all those affected by April 2019.
Ministers said they've already repaid £9m to claimants.
"We're well under way with our plan to identify and repay people affected by this issue, and payments have already started," said a spokeswoman.
"We're committed to ensuring people get what they are entitled to receive as quickly as possible. Everyone who could be affected will be contacted directly by the department."
Meg Hillier, chairwoman of the Commons Public Accounts Committee, hit out at the "shoddy administration" at the Department for Work and Pensions which left vulnerable people out of pocket.
"The NAO's report shows the Department for Work and Pensions was unacceptably slow to act on early signs something was wrong," she said.