Protesters throw fish into Thames in Brexit deal protest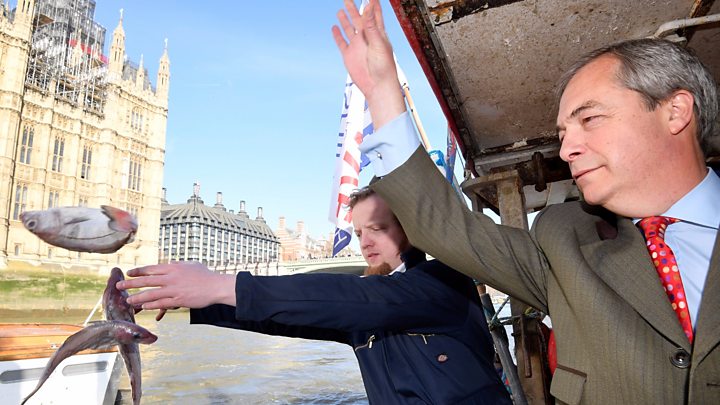 Protesters have thrown dead fish into the Thames outside Parliament as they oppose the Brexit transition deal.
The fishing industry and many coastal MPs are unhappy that the UK will not regain control of the country's fishing waters on Brexit day, 29 March 2019.
Instead it will be subject to EU rules for 21 months until December 2020.
Michael Gove has said he shares the "disappointment" but urged people to keep their "eyes on the prize" of getting full control of UK waters back.
In a sign of government unease about the reaction, Theresa May met MPs with fishing ports in their seats on Tuesday in an attempt to explain their approach.
Speaking from the fishing trawler, former UKIP leader Nigel Farage told Sky News the government did not have the "guts" to stand up to the EU.
"They told us they would take back control in 2019 - that is not happening. We are now told at the start of 2021 it may happen," he said.
"I don't think this government has got the guts or the strength to stand up and take back our territorial waters."
Conservative backbencher Ross Thomson, who is MP for Aberdeen South, said he was "really disappointed" fishing communities will not regain control of UK waters as soon as it leaves the 27-nation bloc.
Speaking from the fishing trawler, he said: "Literally within seconds of our leaving (the EU), we're handing all of that back."
Mr Thomson, who was among the delegation of MPs to see Mrs May, said that while it was a "productive" meeting, "we were very, very clear that we'll only support an end deal if it delivers for our fishing communities - and we have been absolutely clear that this is a red line for us".
Mrs May is hoping the deal will be signed off at a meeting of leaders at the European Council summit in Brussels this week, clearing the way for crucial talks on post-Brexit trade to begin in earnest.
But 14 MPs, including leading backbench Brexiteer Jacob Rees-Mogg, said the proposal for Britain effectively to remain in the EU's Common Fisheries Policy for almost two years after Brexit day in March 2019, with no say over the allocation of quotas, would not command the support of the Commons.
"These demands are completely unacceptable and would be rejected by the House of Commons," they said.
Speaking from the quayside in Westminster, Mr Rees-Mogg said the EU "desperately needs our money" so the negotiating strength was with the UK.
He added: "Am I pleased with the transition deal? No, I can't begin to pretend to be. I don't like the transition deal, but I can live with it."
Fishing facts - according to the Marine Management Organisation 2016
11,800 fishermen and women were active in the UK - 2,300 were part-time
UK fishing industry had 6,191 fishing vessels
UK vessels landed 701,000 tonnes of sea fish into the UK and abroad with a value of £936m
The UK fishing fleet was seventh largest in the EU in terms of vessel numbers, with the second largest capacity
Peterhead, Aberdeenshire, was the port with the highest landings - 145,000 tonnes with a value of £158m
Newlyn, in Cornwall, had the highest quantity of landings in England - 14,100 tonnes with a value of £28m
UK caught the majority of its fish, 81% by quantity, in its own EEZ (Exclusive Economic Zone which extends no more than 200 nautical miles from the shore)
This amounted to 571,000 tonnes of fish worth £774m from the UK EEZ with Mackerel, Nephrops and King Scallop landings accounting for 43% of this total value
Lobsters commanded the highest average price of all species landed by the UK fleet at over £12 a kilo
Boats from other EU countries land about 650,000 tonnes of fish and shellfish in UK waters worth over £400m each year (according to the House of Commons library)
UK fishing boats land an average of 90,000 tonnes of fish and shellfish, worth £100 million, caught in other EU member states' waters each year.