Jennie Formby named as Labour's new general secretary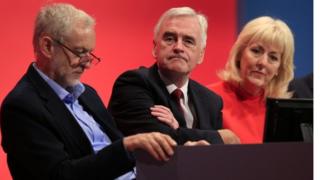 Jennie Formby has been appointed Labour's new general secretary.
The 57-year-old Unite official was chosen ahead of fellow trade union activist Christine Blower by the party's National Executive Committee.
She had been endorsed by Jeremy Corbyn and other senior party figures.
She will succeed Iain McNicol, who quit the post last month, as Labour's top administrative official, taking charge of the party's organisational and campaigning activities.
Ms Formby, a former political director of Unite and ally of its general secretary Len McCluskey, becomes the second woman to hold the role.
She said Labour was "preparing for government" under Mr Corbyn's leadership.
"I look forward to working with Jeremy Corbyn, our party's staff, Members of Parliament, members and affiliates to oppose the Conservatives' destructive austerity programme inside and outside Parliament, and to win elections to build a society that works for the many, not the few," she said.
"Last year's general election showed the strength of our movement when we are united... and campaigning for real change, in the interests of communities across the UK."
Mr Corbyn said Labour was ready for a general election at any time and Ms Formby would play a "crucial role" in taking the party back into power.
"We have the team, the passion and the policies to win the support of the British people, form a government and transform our society for the many, not the few," he said.
---
Who is Jennie Formby?
Aged 57, born in London in April 1960
Married with three children
Father served in the Royal Navy in Korea, Suez and Lebanon
He joined Labour as a 90-year-old in 2016 after Jeremy Corbyn's election
Mother was a local volunteer who ran clothing bank in Salisbury into her 80s
Attended boarding school, left with three A-levels and 10 O-levels
First job was in a William Hill bookmakers
While there, she joined Transport and General Workers' Union as branch secretary
Went to work for industrial firm BOC before joining TGWU full time in 1988
Represented workers in defence, community, food, drink and tobacco firms
Was political director of Unite between 2013 and 2016
Currently Unite's regional secretary for the south east
Joined Labour as a teenager and has campaigned at all general elections since 1979
---