Jennie Formby: Labour's new general secretary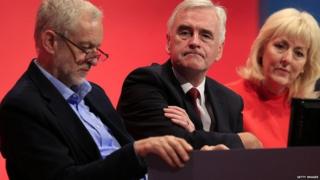 Jennie Formby has gained what the BBC understands is the overwhelming support of Labour's ruling NEC to defeat Christine Blower for the post of Labour's general secretary - the party's most senior official.
She is firmly on the left of the party so her victory symbolises the increasing hold which those supportive of Jeremy Corbyn's leadership now have on the party machine.
But her victory isn't just about symbolism. It's also about substance. So what difference will she make?
She has four decades of experience in Labour politics and has held both political and organisational posts in Unite, the country's biggest union.
She is personally and politically close to its leader, Len McCluskey, and was the favoured candidate of the party leadership.
So she is likely to work far more closely with the leader's office than her predecessor Iain McNicol, who was appointed under Ed Miliband.
These days many of the most influential backroom figures are based in what's known as LOTO - the Leader of the Opposition's office - rather than at party HQ, including the spokesman and strategist Seamus Milne, chief of staff Karie Murphy and author of the 2017 manifesto Andrew Fisher.
Campaigning
But a general secretary working in step with them, and trusted by them, could be influential.
One senior source suggested she would "break down the silos between the leader's office and the party headquarters".
She is responsible for around 400 party staff - including electoral strategists, organisers, researchers, and press officers.
Some of those close to her say her biggest challenge may be making the transition from campaigner to manager - and biting her tongue in public.
But she can achieve a lot in the party's backroom.
There was widespread criticism on the left that the incumbent party machine didn't do enough to target Conservative seats at the last election and limited Jeremy Corbyn's success as a result.
With Labour trailing even in its own private polling ahead of that election - and criticism that the party hadn't been defensive enough in 2015, ceding seats to the Conservatives - the HQ officials may well have made logical decisions.
---
Who is Jennie Formby?
Aged 57, born in London in April 1960
Married with three children
Father served in the Royal Navy in Korea, Suez and Lebanon
He joined Labour as a 90-year old in 2016 after Jeremy Corbyn's election
Mother was a local volunteer who ran clothing bank in Salisbury into her 80s
Attended boarding school, left with three A-Levels and 10-O Levels
First job was in a William Hill bookmakers
While there, she joined Transport and General Workers Union as branch secretary
Went to work for industrial firm BOC before joining TGWU full time in 1988
Represented workers in defence, community, food, drink and tobacco firms
Was political director of Unite between 2013 and 2016
Currently Unite's regional secretary for the south east
Joined Labour as a teenager and has campaigned at all general elections since 1979
---
But there is little doubt that the new broom at the Southside headquarters will sweep away old assumptions and embark on a more ambitious strategy.
She has said that some of the campaign tools - including digital - which were used so successfully to elect and re-elect Jeremy Corbyn as party leader should be used more widely.
The departure - announced yesterday - of key members of staff in the coming months will give her substantial room for manoeuvre, and some of her early weeks in the job are likely to be spent on recruitment.
But her focus won't just be on the head office.
Grassroots
She is also committed to devoting more resources to community organising, building the party up from its grassroots.
And internal critics of Jeremy Corbyn will be wary of this sentence in Jennie Formby's statement announcing her candidacy: "I will work with all parts of the movement to ensure that the party democracy review empowers the party membership, opens up policy making, and ensures democratic best practice throughout."
That "democracy review" - under Jeremy Corbyn's political secretary Katy Clark - will report to the party's conference this autumn.
The general secretary will be responsible for overseeing any changes.
Jennie Formby's words sound innocuous - but some MPs interpret her them as a signal that she is prepared to implement a further power shift away from Parliament and towards the rank and file.
It's perfectly possible that MPs' say in nominating the next party leader could be reduced.
And its possible - after this year's conference - that she could be asked to look at how candidates are selected, or re-selected.
There is no evidence that she would advocate changing the rules to make it easier to unseat sitting MPs, and her union's general secretary isn't keen on the fuss it could create.
Discipline
But it is Unite's official policy to open up selection procedures to ensure MPs aren't automatically re-adopted.
Her remarks about "opening up policy-making" could potentially spell the death knell for the National Policy Forum which includes MPs, trade unionists and activists and give more power to the annual conference, where the unions have more influence.
She also declared that she will be "open and tolerant" while bearing down on anyone guilty of anti-Semitism, racism or intimidation.
Some on the party's far left are concerned that she won't end what they see as "witch hunts" - or expulsions - of party members because of their political views, or statements they have made, which could be regarded as bringing the party into disrepute.
Meanwhile, some on the party's right believe her "tolerance" will extend too far towards those who have campaigned for left-wing parties opposed to Labour in the recent past.
While the party's National Constitutional Committee would decide on disciplinary matters, the new general secretary would have a key role in deciding how much resource should be applied to investigating complaints.
She is promising to handle them "fairly and speedily".
A leading figure on Labour's NEC and in the left-wing group Momentum - Christine Shawcroft - briefly questioned Labour's trade union link in the run up to today's appointment.
There is little doubt Jennie Formby - like her predecessor, who came from the GMB - will defend it.
Momentum's founder Jon Lansman had considered contesting the general secretary post himself. He wanted to encourage a debate on whether the role should be elected by the party membership.
But neither the leadership nor the big unions had much enthusiasm for the creation of a new, alternative power base.
The general secretary remains an unelected official - answerable to an elected National Executive.
So some continuity. But - as with Jeremy Corbyn's leadership - expect to see incremental but ultimately substantial change, too.