Spy poisoning: Russian diplomats leave UK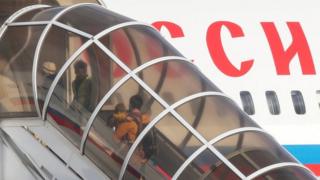 Russian diplomats and their families have left the UK in an expulsion following the Salisbury spy attack.
Diplomatic vehicles drove them from the embassy in London to Stansted Airport, where they boarded a plane to Moscow.
The UK expelled 23 diplomats after Prime Minister Theresa May said Russia was "culpable" for the poisoning of Sergei Skripal and his daughter.
The government decided on Tuesday not to impose further sanctions on Russia for now.
However, at a meeting of the National Security Council, Mrs May said: "There are other measures that government and security officials are actively considering and stand ready to deploy at any time."
Strict checks by border officials on private flights have been introduced as the UK increases efforts to monitor and track those entering the country, Mrs May's spokesman added.
Moscow has denied all involvement, and is expelling 23 British diplomats in response. The UK diplomats have until Saturday to leave Russia.
The Kremlin is also closing down both the British Council in Russia, which promotes cultural ties between the nations, and the consulate in St Petersburg.
The Russian foreign ministry, meanwhile, has invited all foreign ambassadors in Moscow to a meeting on Wednesday to clarify the Russian position on the Skripal affair, the Russian news agency Interfax has reported.
The Russian Embassy in London said around 80 people - including the Russian intelligence officers and their families - were due to leave the UK on Tuesday, the deadline given by Mrs May.
A small crowd gathered outside the embassy and waved goodbye to people carrying suitcases, children and pets as they boarded vehicles.
Russian ambassador to the UK Alexander Yakovenko tweeted: "Today we bid farewell to our colleagues heading home after the hostile move of the UK Government, and wish them all the best in their careers."
The BBC's diplomatic correspondent James Robbins said launching further measures "risks an endless tit for tat with the Kremlin".
But "not to do so risks accusations of weakness from some quarters," he added.
Police appeal
Meanwhile, drivers or cyclists who captured video footage near the home of a murdered Russian businessman Nikolai Glushkov on 11 March or 12 March are being asked to contact police.
Mr Glushkov was found dead from apparent "compression to his neck" at his home in New Malden, south-west London last week.
Russian former military intelligence officer Sergei Skripal, 66, and his daughter Yulia, 33, remain critically ill in hospital after being found slumped on a bench and unconscious on 4 March.
They had been exposed to a nerve agent of a type developed by Russia called Novichok, the UK government claims.
More than two weeks on from the attack, the head of counter-terrorism policing in the UK, Met Police Assistant Commissioner Neil Basu, said the focus of the Salisbury investigation is "on the movements of the Skripals".
Officers are trawling through 4,000 hours of CCTV footage and have already taken 400 statements with more to come.
"It is going to take weeks, possibly months," Mr Basu told BBC Radio 4's Today programme, adding: "This is going to be frustrating for people."
Meanwhile, following a phone call between Japanese Prime Minister Shinzo Abe and Mrs May, Downing Street said Japan condemned the Salisbury attack and "shared our outrage".
The leaders of France, Germany and the US have already pledged support for the UK in a joint statement and the EU offered its "unqualified solidarity".
EU leaders will meet at a summit in Brussels on Thursday to discuss any potential response to Russia.
Labour leader Jeremy Corbyn said the UK must still deal with Russia despite "all fingers" pointing to it over the Salisbury spy attack.
He said he would "do business" with Russian President Vladimir Putin but assertively and on the basis of the UK's values.
Foreign Secretary Boris Johnson previously said it is "overwhelmingly likely" that President Putin ordered the nerve agent attack. Russia said the accusations were "shocking and unforgivable".
Mr Skripal, a retired military intelligence colonel, came to the UK in 2010 after being released from prison in Russia.
He had been jailed in Moscow in 2006 for spying for Britain and passing the identities of Russian secret agents in Europe to MI6, the UK's Secret Intelligence Service.
His daughter, Yulia, flew into the UK from Russia on 3 March, the day before she and Mr Skripal were found on a bench near The Maltings shopping centre in Salisbury, Wiltshire.