Spy poisoning: Corbyn says UK must still do business with Putin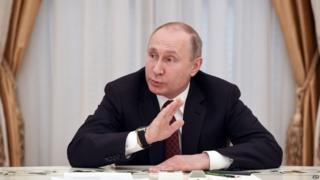 Labour leader Jeremy Corbyn has said the UK must still deal with Russia despite "all fingers" pointing to it over the Salisbury spy attack.
He said he would "do business" with Vladimir Putin but assertively and on the basis of the UK's values.
Shadow chancellor John McDonnell says he believes Mr Putin was responsible.
But Mr Corbyn said he wanted "an absolutely definitive answer" about the source of the nerve agent used in the attempted murder before blaming Moscow.
In a wide-ranging interview with Radio 4's World at One, Mr Corbyn said if he won power, he would challenge the newly re-elected president on human rights and the whole basis of the UK's relationship with Moscow.
Former Russian military intelligence officer Sergei Skripal, 66, and his daughter Yulia, 33, remain critically ill in hospital after being found slumped on a bench on 4 March. They had been exposed to a nerve agent.
The 23 Russian diplomats expelled from London after Theresa May told the Commons that Russia was "culpable" for the attack are due to leave on Tuesday.
A removal van is reportedly in the embassy grounds, the BBC understands.
The PM will also chair a meeting of the National Security Council on Tuesday to consider possible further steps against Russia.
Moscow has denied all involvement, and is expelling 23 British diplomats in turn.
Meanwhile, the head of counter-terrorism policing in the UK, Met Police Assistant Commissioner Neil Basu, said the focus of the Salisbury investigation is "on the movements of the Skripals".
'Shoot from hip'
Mr Corbyn has been criticised by Tory and some Labour MPs for not blaming the Russian state categorically for the attack.
In an interview to be broadcast on Tuesday, he told The World at One people should "not shoot from the hip" and instead wait for experts from the Organisation for the Prohibition of Chemical Weapons to complete their work testing the poison, again repeating his call for Russia to be sent samples of the nerve agent to identify.
"All fingers point towards Russia's involvement in this, and obviously the manufacture of the material was undertaken by the Russian state originally," he said.
"What I'm saying is the weapons were made from Russia, clearly.
"I think Russia has to be held responsible for it but there has to be an absolutely definitive answer to the question where did the nerve agent come from?"
He added: "I asked the Russians be given a sample so that they can say categorically one way or the other."
'Assertive'
On Sunday, Mr McDonnell - one of Mr Corbyn's closest allies - said he agreed with the prime minister that "whichever way you look at it", Vladimir Putin "is responsible and all the evidence points to him" - adding that it was "highly likely" to have been an attempted state execution.
Asked if he agreed with Mr McDonnell on this point, Mr Corbyn said: "I think John put the case there that it's highly likely that there's Russian involvement in it."
He said all countries, not just Russia, had to abide by the Chemical Weapons Convention and that the UK should maintain a robust dialogue with Moscow on a range of issues rather than shunning it.
"Would I do business with Putin, sure? And I'd challenge him on human rights in Russia, challenge him on these issues and challenge him on that whole basis of that relationship.
"You have to deal with people who are in the position they are as head of state," he added
"Russia is a huge country that suffered more than anyone else in the Second World War and we have to recognise that there has to be a relationship with Russia. Robust, yes, assertive, yes, demanding yes, but there has to be a relationship."
In an article for the Daily Telegraph, Foreign Secretary Boris Johnson said the Russian president was taking his country in a "dangerous direction", with his actions at home and abroad clearly linked.
"The obvious Russian-ness of the weapon was designed to send a signal to anyone pondering dissent amid the intensifying repression of Mr Putin's Russia," he wrote.
"The message is clear: we will hunt you down, we will find you and we will kill you - and though we will scornfully deny our guilt, the world will know that Russia did it."
Conservative MP Jacob Rees-Mogg also argued that the prime minister is "a very cautious leader" who would not have made the claims she has about Russia "without being very convinced that we have the evidence".
He told Nick Ferrari's LBC radio programme that Russia has not behaved as a "normal nation behaves", through its invasion of Georgia and Ukraine sovereign territory and "its willingness to murder people in British streets - that's not how a normal nation behaves and we can't allow that to go unnoticed, unresponded to."