MPs warn of 'poisonous air' emergency costing £20bn a year
By Roger Harrabin
BBC environment analyst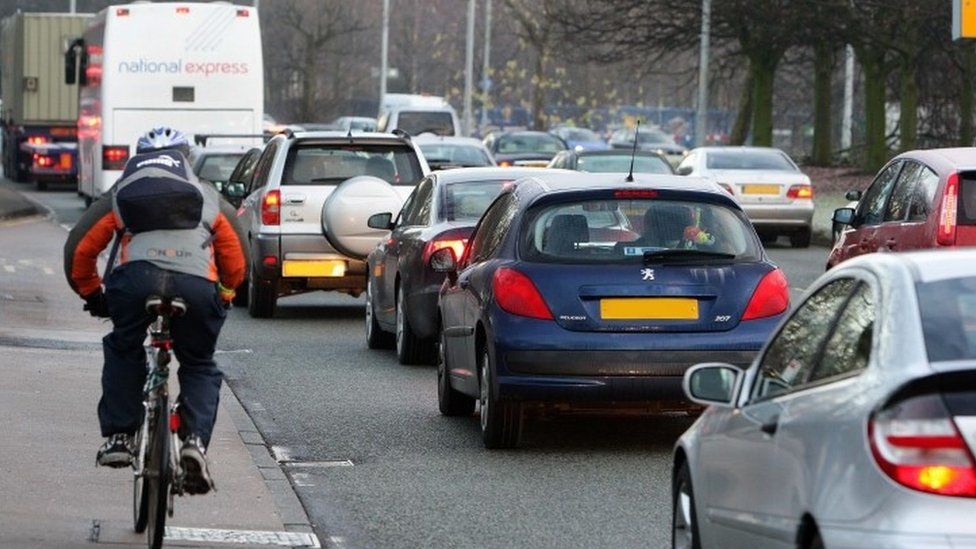 MPs have demanded an end to the UK's "poisonous air" in an unprecedented report from four Commons committees.
The Environment, Health, Transport and Environmental Audit committees want a new Clean Air Act, and a clean air fund financed by the motor industry.
They are also demanding a faster phase-out of petrol and diesel cars - currently set for 2040.
The government said air pollution had improved significantly since 2010 but there was "more to do".
MPs have been frustrated by the response from ministers, who have promised to publish a comprehensive clean air strategy later this year.
Their report says: "Air pollution is a national health emergency resulting in an estimated 40,000 early deaths each year, costing the UK £20bn annually.
"It is unacceptable that successive governments have failed to protect the public from poisonous air.
"Despite a series of court cases, the government has still not produced a plan that adequately addresses the scale of the challenge. Nor has it demonstrated the national leadership needed."
The report - the first time that four committees are thought to have collaborated - urges the Treasury to take greater account of the costs of air pollution when setting tax and spend policy, after tax changes by the former Chancellor George Osborne left a Porsche driver paying the same tax as the owner of a low-pollution Prius.
The Society of Motor Manufacturers and Traders told BBC News that a clear air fund worth £220m had already been set up by government, paid for by changes to vehicle taxation.
"In addition, vehicle manufacturers are funding scrappage schemes to get the older vehicles off the road," Mike Hawes said. "Other sectors must also play their part in improving air quality."
The government has called for evidence on pollution from other sources such as wood stoves, coal fires and smokeless fuel. It is also looking at the use of cheap agricultural red diesel in food delivery vans.
But Greenpeace said the car industry could not continue to be allowed to "shake off its responsibility" for the pollution crisis the UK was facing.
"The public was missold highly polluting diesel cars by manufacturers who knew road emissions were many times higher than in the lab," said its senior political adviser Rosie Rogers.
"It's high time manufacturers felt the heat, and contributing to a clean air fund is a good start."
The government's long-term target of abolishing cars driven only by petrol and diesel by 2040 is regarded by environment groups as a red herring. They point out that India has made the same pledge - but for 2030.
It is most unlikely, they say, that manufacturers will still be making UK cars deemed unfit to drive on India's roads after 2030.
The chair of the Environment select committee, Neil Parish, told the BBC government should work with councils to tackle pollution hotspots where Nitrogen Dioxide (NO2) levels are breached, some of which are very small.
"This really has to be stamped out and that's why the whole committee talked about bringing government and local authorities together so we can work across not just here in London but the whole country," he said.
That was welcomed by Councillor Martin Tett, from the Local Government Association, who said MPs were right to "recognise the unique position of councils to understand air quality in their area, which is why they need the flexibility to deliver their own plans".
The current explosion of concern over air pollution has been fuelled by the diesel car scandal and the government's defeat in the courts over EU regulations governing Nitrogen Oxide (NOX) emissions.
But World Health Organisation air quality guidelines are already tougher than those set by the EU.
And recent reports have drawn a possible link between attention deficit disorder, dementia and air pollution - at levels currently considered acceptable.
The government is being urged to address these concerns in its clean air strategy later in the year.
A government spokesman said: "Air pollution has improved significantly since 2010, but we recognise there is more to do. We will carefully consider the joint committee's report, and respond in due course."