Russian spy case: John McDonnell opposes World Cup boycott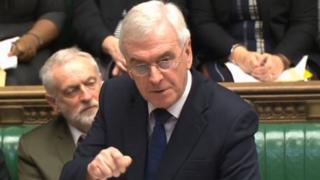 The UK should hit Russia "in the pocket" rather than withdrawing from the World Cup after the attack on an ex-spy and his daughter, Labour's shadow chancellor has said.
John McDonnell said pulling the England team out of the competition, which begins in June, would be "ineffective".
Some MPs have backed a boycott, however.
Tory backbencher Bernard Jenkin said taking part would legitimise a "nasty regime".
He told BBC Radio 5 Live he would make his views known to Prime Minister Theresa May and that if "we could act internationally and in concert with other countries on this it will be very good".
Mrs May has announced the expulsion of 23 Russian diplomats from the UK after Moscow refused to explain how a Russian-made nerve agent was used in the attack on ex-spy Sergei Skripal and his daughter Yulia in Salisbury.
She said UK dignitaries, including members of the Royal Family, will not attend this summer's FIFA World Cup tournament.
Labour MP Stephen Kinnock has urged her to join forces with other nations to push for the World Cup to be cancelled and moved to another country in 2019.
And Mr Jenkin said: "Nasty regimes like to host these big sporting events as a great sort of propaganda coup.
"It legitimises their regime and sport... reaches way beyond politics, way beyond international policy as a tool of propaganda. We must spoil this tool for Putin on this occasion".
He added: "The irony is if we were talking about apartheid South Africa, the left would be up in arms, they'd be ripping up the pitches, and they'd be picketing. There's a kind of double standard here, why can't we be consistent."
Speaking to BBC Radio 4's Today programme before Mrs May's statement, Mr McDonnell said: "I'm more in favour of fans going and mixing with Russian people, because at people-to-people level, you can isolate the politicians.
"If it's just England withdrawing, it won't be effective."
Russia has denied any involvement in the Salisbury attack and the Foreign Office has now warned those travelling to Russia in the coming weeks about the "possibility of anti-British sentiment or harassment at this time".
In a statement following Mrs May's comments, the Football Association said: "The FA will continue to work closely with the UK government and relevant authorities regarding our participation in this summer's FIFA World Cup and the Women's World Cup qualifier in June.
"Our priority for all England matches is to ensure the safety and security of the fans, players and staff. As is standard practice, we will take all travel guidance from the Foreign and Commonwealth Office."