Spring Statement: John McDonnell attacks 'astounding complacency'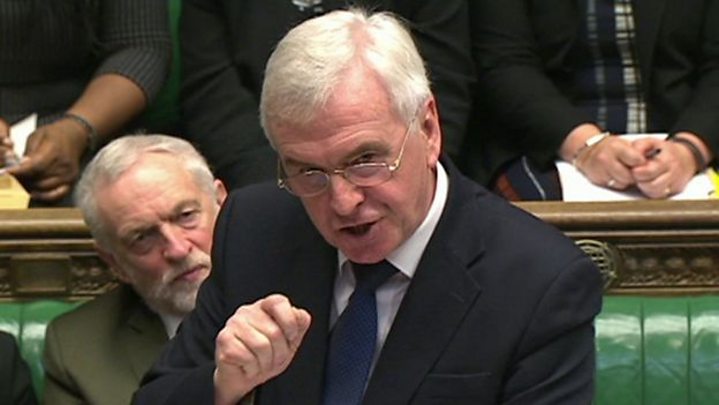 Public services have been "ignored" by the Conservatives despite "a crisis on a scale we have never seen before", Labour's shadow chancellor has claimed.
John McDonnell said the "complacency" shown by Chancellor Philip Hammond's Spring Statement was "astounding".
In his response in the Commons he accused the Tories of not listening to doctors, nurses, teachers or police.
But the chancellor dismissed Labour for offering an "inward-looking, narrow-minded economy".
The exchanges followed Mr Hammond's first Spring Statement, after the Budget was moved to the autumn.
Mr McDonnell argued that "austerity was a political choice not an economic necessity", adding: "We were never all in this together as they claimed."
He said to Mr Hammond: "Your complacency today is astounding. We face - in every public service - a crisis on a scale we've never seen before.
"Haven't you listened to the doctors and nurses, the teachers, the police officers, the carers and even your own councillors? They are telling you they can't wait for the next Budget. They're telling you to act now.
"For eight years they've been ignored by this government. And today - they've been ignored again."
Mr Hammond had hailed the forecasts that the UK economy had grown at a slightly faster rate than predicted in November and that borrowing was down.
Instead, Mr McDonnell said, growth in the UK economy "was among the lowest in the G7 and the slowest since 2012".
"Wages are lower now - in real terms - than they were in 2010 - and they're still falling," he told the Commons.
He said three million people were "in insecure work" and the Resolution Foundation claimed changes to benefits due to come in next month would leave 11m families worse off, with the "harshest cuts" falling on disabled people.
He said government investment was nearly £18bn below 2010 levels, which was part of the reason why "UK industry is 20 to 30% less productive that in other major economies". while R&D funding had been cut by £1 billion in real terms.
And he accused ministers of channelling five times more transport investment into London than Yorkshire and Humber and the North, while also "single-handedly destroying our solar industry" with the loss of 12,000 jobs as a result of subsidy cuts.
Mr McDonnell said it was "a bit rich" for the chancellor to claim the government had reached a turning point on the economy, when "it has increased the debt by over £700bn... the equivalent of an additional £22,000 on every household in this country".
Of the government's claims the deficit would be eliminated "by 2015, then 2016, then 2020", he said it had instead been shifted on to the shoulders of NHS managers, doctors, nurses and the health secretary.
"NHS Trusts will end this financial year £1bn in deficit," he said.
"Doctors and nurses are struggling and being asked to do more, while 100,000 NHS posts go unfilled. Do you really believe the NHS can wait another eight months for the life-saving funds it needs?
"How many more people have to die while waiting for an ambulance?"
He said crime was "rising" while police officer numbers had been cut and at the same time as nearly 5,000 people were sleeping rough on the streets, "one million vulnerable older people have no access to the social care they need".
Accusing the chancellor of "another missed opportunity", Mr McDonnell said: "This isn't a government that's preparing our country for the future - it's a government setting us up to fail."
In response Mr Hammond said: "Every now and again the mask slips and we get a glimpse of the sinister ideology that lies beneath - an ideology that would wreck our economy if you ever gets anywhere near the controls."
The chancellor said the government had closed the tax gap to one of the lowest in the developed world, while the Office for Budget Responsibility (OBR) expected real wages to rise.
He said "spending on the disabled" would be higher in every year of the Parliament, while research and development spending was at "record highs".
At the weekend the shadow chancellor urged Labour MPs to stop appearing on a Kremlin-sponsored TV station.
Mr Hammond referred to that as he said: "You reel out the same old bogus statistics on regional distribution - I think you got the briefing from Russia Today."