Russian spy: Row over Jeremy Corbyn's response to May statement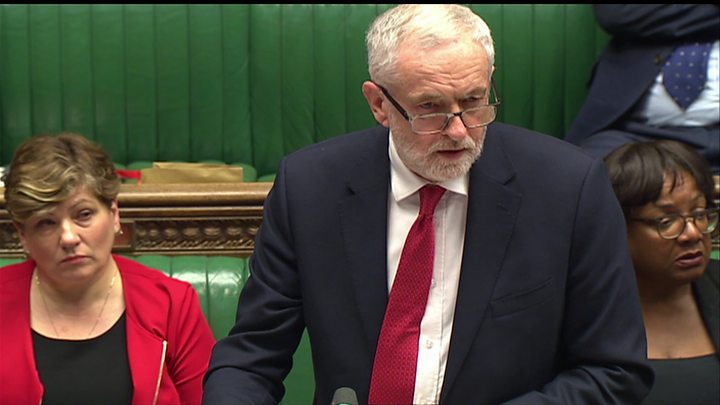 A row has erupted over Jeremy Corbyn's response to Theresa May's latest statement on the poisoning of a former Russian spy.
He said the attack had "appalled the country" and urged decisive action after the PM told the Commons it was "highly likely " Russia was to blame.
But the Labour leader also criticised the Conservatives for accepting donations from "Russian oligarchs".
Tory MPs accused him of trying to score political points.
Some Labour MPs also suggested he had misjudged his response, urging MPs on all sides to get behind Theresa May.
Sergei Skripal and his daughter Yulia remain in a critical condition in hospital following the attack in Salisbury on 4 March.
Mr Corbyn told MPs: "We need to continue seeking a robust dialogue with Russia on all the issues dividing our countries, both domestic and international - rather than simply cutting off contact and simply letting tensions and divisions get worse, and potentially even more dangerous."
To cries of "shame" and "disgrace" from Conservative MPs, he added: "We're all familiar with the way huge fortunes, often acquired in the most dubious circumstances in Russia, sometimes connected with criminal elements, have ended up sheltering in London and trying to buy political influence in British party politics.
"Meddling in elections, as the prime minister put it, and there has been over £800,000 worth of donations to the Conservative Party from Russian oligarchs and their associates."
In her reply, the prime minister said people should not "tar with the same brush" everyone of "Russian extraction" in the UK, and insisted her party complied with donation rules.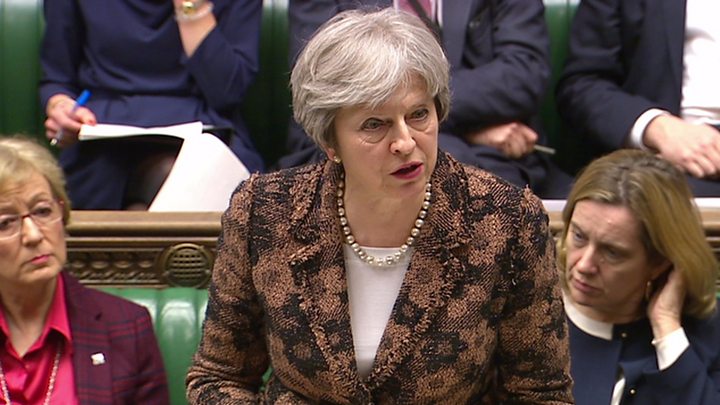 Mr Corbyn also claimed the government was resisting Labour's amendments to the Sanctions and Money Laundering Bill, currently progressing through the House of Lords.
But critics picked up on his call for "dialogue" with Russia and his criticism of Tory donations.
Conservative MP Johnny Mercer said: "I think I've just seen - and I look at my honourable friend opposite as I say this - the most shameful moment in this House of Commons in my time to date."
Labour former minister Chris Leslie - a party "moderate" who has criticised Mr Corbyn in the past - told MPs: "There are certain circumstances, as (Mrs May) knows, that we take party political differences of opinion.
"But when our country is potentially under attack, that is just not appropriate."
Fellow Labour MP John Woodcock, another Corbyn critic, drew cheers from the Tory benches after praising Mrs May's response.
He said: "It would put our national security at significant risk if we were led by anyone who did not understand the gravity of the threat which Russia poses to this nation."
Mr Woodcock told BBC Radio 5 Live on Tuesday: "Many of us thought Jeremy got the tone wrong yesterday, but the key moment in this is what our response will be to the set of actions announced by the prime minister tomorrow (Wednesday)."
Labour chair of the home affairs committee Yvette Cooper called for the "whole House" to "come together behind" the prime minister, to cries of "hear hear" from the Labour MPs around her.
On Twitter, Mrs May's chief of staff, Gavin Barwell, contrasted Mr Corbyn's response to that of Scotland's First Minister Nicola Sturgeon, who said: "Cool heads certainly required but also a firm response.
"Russia simply cannot be allowed to launch attacks on our streets with impunity."
But supporters of Mr Corbyn, and some right-leaning commentators, defended his comments on Twitter, saying it was legitimate to raise the issue of Conservative donations, as it exposed the party's hypocrisy on the issue of Russian finance.