Inquiry into Parliament bullying claims backed by ministers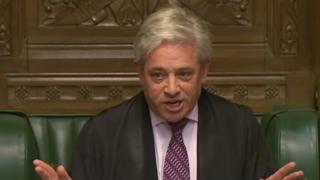 Commons leader Andrea Leadsom has called for an inquiry into allegations of bullying in Parliament.
It is likely to consider whether all Commons staff should be covered by the independent grievance procedure, not just those working directly for MPs.
It follows a BBC investigation which reported complaints about several MPs.
Labour's Paul Farrelly, one of the MPs mentioned in the report, said he had been the victim of "selective leaking" and "recycling" of old allegations.
He told MPs that it was "not a game" for those involved, nor their families.
Mrs Leadsom announced her support for an inquiry in response to an urgent question from Green Party co-leader Caroline Lucas.
Ms Lucas said there should be an assumption that all historic allegations of bullying and harassment of Commons staff - known as "clerks" - should be investigated.
"People working in parliament should be able to work without fear of intimidation or bullying and today I'm calling for every member of staff to be given the best possible protection," she said.
Mrs Leadsom said the issue would be considered by the House of Commons commission at its next meeting and she would recommend the matter would be handled by an independent figure rather than MPs.
Insisting she was absolutely committed to "stamping out" all forms forms of bullying and harassment, she said it was not clear that the existing Respect policy setting out procedures for Commons staff not employed by MPs provided "sufficient" protection.
She told MPs everyone should have the "same rights and protections" and be held to "the same high standards".
While it was only a "small minority" of MPs who behaved badly, she said their actions "demeaned" everyone working in the Palace of Westminster and the culture of the Commons "needed to change".
'Not appropriate'
The Newsnight investigation uncovered complaints about a number of MPs, including Speaker John Bercow, allegations which he denies.
Having granted the urgent question to Ms Lucas as part of his job as speaker, Mr Bercow was present in the chamber for the session.
Conservative MP James Duddridge - a long-term critic of Mr Bercow - questioned whether it was "appropriate" for Mr Bercow to chair the proceedings given he had been named in the BBC report.
Mr Farrelly said the BBC's report had been "one-sided" and suggested there was a "disparity of support" available to MPs who were the victims of complaints compared with those making them - who he said often had considerable backing from their unions.
Earlier on Monday, the clerk of the House of Commons, David Natzler, wrote to staff on Monday, saying he was in "no doubt" that there were "unresolved issues over bullying and harassment".
He recognised policies needed to be re-examined and improved, but accepted this would be "no substitute for cultural change."
He said the House was "moving in the right direction", but added: "The only ultimately acceptable outcome will be a workplace culture free of bullying and harassment."
Labour's Jess Phillips has called for MPs who were found to have mistreated their staff to be stripped of their staffing allowances in future.