Bus access to be improved for wheelchair users, ministers say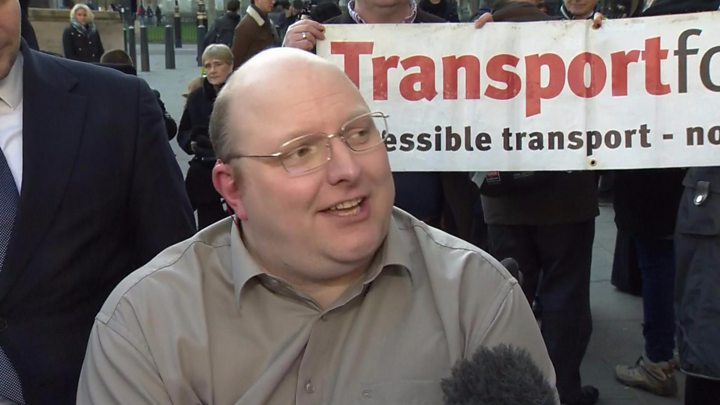 Ministers have said they aim to improve bus access for wheelchair users, following a Supreme Court ruling.
Clearer signs saying wheelchair users have priority, and powers for drivers to remove people who refuse to move from a wheelchair space are among the measures considered.
It may also involve an awareness campaign for "bus-friendly" - easily folding - pushchairs.
The review followed wheelchair user Doug Paulley's court case.
Mr Paulley, from Wetherby, West Yorkshire, took legal action after he was left at a stop because a woman with a sleeping baby in a pushchair refused to move out of the designated area when asked by the driver of a FirstGroup bus to Leeds in February 2012. She said the buggy would not fold.
Transport Minister Nusrat Ghani said: "Passengers with disabilities must have the same opportunities to travel as other members of society, and it is essential that the services they rely on are accessible and work for them.
"Where people live, shop, go out or park their car should not be determined by their disability.
"Accessible transport networks are vital if we are to support those with disabilities to live independent lives and fulfil their potential."
The Supreme Court unanimously ruled it was not enough for drivers to "simply request" a non-wheelchair user vacate the space without taking any further steps, and they must consider whether it was reasonable to "pressurise" reluctant passengers to move.
The Department for Transport said it had talked to bus drivers, disabled people and members of the public travelling with young children to ensure its plans were "informed by those most affected by them".
A government stakeholder group - the Task and Finish Group on the Use of Wheelchair Spaces on Buses - formed after the Supreme Court judgement, said drivers needed to play an active role to ensure space was made available for passengers in wheelchairs.
It called for drivers to be given the power to remove passengers "who unreasonably refuse to move when requested".
It also suggested improved signage on buses to boost public awareness.
And it said that "there is the potential to work with buggy and pushchair manufacturers, retailers and consumer organisations to raise awareness of more 'bus-friendly' models - those that can be folded quickly and easily".
In her written statement to Parliament Nusrat Ghani said that while ministers "accepted in principle" the group's recommendations, they wanted to "begin a process of further engagement to understand the specific experiences of a range of stakeholders affected by the wheelchair space issue, including wheelchair users, parents travelling with young children, and bus drivers - with a view to bringing forward a package of measures in 2018".
Keith Richards, who chairs the Disabled Persons' Transport Advisory Committee, welcomed the announcement.
"Fighting for what is essential space should not be part of the day-to-day experience wheelchair users have when using buses," he said.
"We hope the department will maintain its pace into the implementation phase, to ensure that wheelchair users no longer face these challenges or have to fight for facilities provided for them in law."