Post-Brexit UK financial markets 'offer' for Gibraltar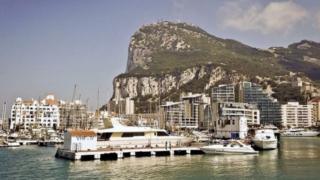 The UK is to offer Gibraltar continued barrier-free access to finance markets after Brexit, the BBC understands.
The UK is negotiating for Gibraltar to be treated the same as Britain when it leaves the EU in March 2019.
But the EU insists Madrid can stop a transitional deal or future trade relationship applying to Gibraltar unless there is a Spain-UK agreement.
Gibraltar fears Spain could use this veto to force talks about the Rock's constitutional future.
At the very least, it fears there could be talks about closer cooperation with Spain.
If Britain refused, then Gibraltar could fall out of the EU next March without a transitional deal and lose its access to the British financial markets.
Ministers are to give the commitment to financial market access at a meeting in London of the so-called Joint Ministerial Council with the Gibraltar government.
Gibraltar is hoping to get some formal reassurance that it will retain access come what may.
This matters not just because most of its financial trade is with the UK but also because its insurance sector is important to Britain.
The Gibraltar government says that one in five British drivers insure their cars with firms based in Gibraltar. For insurers to offer annual policies with certainty, they need some kind of reassurance before the end of this month.
The Lib Dem leader, Sir Vince Cable, told the BBC Theresa May should make rejecting Spain's veto a red line in her negotiations.
The prime minister, he said, had ignored the people of Gibraltar and taken her eye off a key national interest.
He said: "If the government is going to take a tough line on Brexit in these negotiations, this is one of the things they should be tough about.
"Currently they have been very, very weak and created an enormous sense of anxiety and insecurity".
He added: "It is an issue of fundamental principle. Gibraltar has been attached to the UK for two centuries.
"We have seen off repeated demands by Spain to have control over the Rock. We should not allow Brexit to be used as a cloak for giving away what is a substantial British commitment."
Micro state solution?
A UK government spokesmansaid: "The EU's guidelines are a matter for the EU and the other member states.
"The prime minister has said that as we negotiate these matters we will be negotiating to ensure that the relationships are there for Gibraltar as well.
"We are not going to exclude Gibraltar from our negotiations for either the implementation period or the future agreement."
Former Labour Europe minister Lord Hain suggested that one solution to any co-sovereignty suggestions could be turning Gibraltar into a "micro state" like Andorra, the Vatican City and San Marino.
But Gibraltar's Chief Minister Fabian Picardo said this was not an option and insisted sovereignty could not be bartered away.
"We're very linked to the UK, we see the world through British eyes and we don't want to change that," he told BBC Radio 4's Today programme.
"But at the same time, we believe we should be engaging more closely with Spain. I think we can create, even despite Brexit, a rainbow of opportunities for people who live in the bay of Gibraltar and the wealth that Gibraltar creates."
Negotiation plea
Samantha Barrassa, who runs the Gibraltar Financial Services Commission insisted the UK market "is important" to the financial services sector in Gibraltar, with services companies employing thousands of people in the UK.
But former Spanish EU minister Diego Lopez Garrido said it was "unacceptable that Britain says 'no matter about Gibraltar - business as usual. Nothing to talk (about).'"
"The British government should negotiate with the Spanish government about Gibraltar."
And Charles Powell, from the Elcano Royal Institute think-tank, said Britain now has to accept the European Commission will be on Spain's side in the future because it is an EU member, while the UK will not be, post-Brexit.
He said the Spanish public "cannot understand this obsession with Gibraltar and this total lack of concern about the Brits who live in Spain and the consequences Brexit will have on them".