Proxy voting by MPs 'good for democracy', says Harman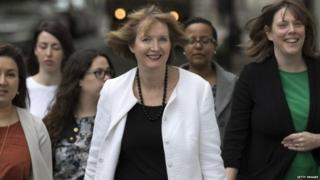 Allowing an MP who has recently become a parent to nominate a proxy to vote on their behalf would be "good for democracy", Harriet Harman has said.
The Labour politician told the Commons procedure committee constituents voices were "lost" when MPs were not able to vote because of family commitments.
A proxy system would be a "small but important" step forward, she said.
Tory MP Maria Miller told the committee it would be up to MPs to decide which colleague could best represent them.
She said effectively "disempowering" MPs with young children "sent the wrong message" to society as a whole.
The Commons backed the principle of proxy voting for MPs who are new parents earlier this month and instructed the procedure committee to look at how it might work in practice.
As "office holders" rather than employees, the usual rules of parental leave do not apply to MPs, with arrangements made privately between members and their parties.
Some MPs have taken time off after becoming parents but it has become increasingly common for MPs to be seen taking their young babies into the Commons chamber in order to vote in important divisions.
Appearing before the committee, Ms Harman said the increase in the number of female MPs in recent years and a shift in cultural attitudes towards fatherhood meant Westminster had to change they way it operated.
"In the old days, it was not an issue because it was men in the House and women looking after the children," she said. "Now we have women having babies and men wanting to spend time with new babies."
'Complete trust'
The mother-of-three said the existing pairing system - in which MPs on planned absences were paired up with an MP from the opposition to effectively cancel out each others' votes - was not designed to deal with the complexities of parenthood and resulted in MPs' votes not being recorded.
Most people, she said, would appreciate that if their MP went into labour they would not be able to be vote for some time but that as constituents they would want "their voices to be heard.... and not be lost".
There was a "good democratic argument" for a proxy system, she said.
Labour's former deputy leader, who has been an MP since 1982, said the process should be initially introduced for votes on government bills and potentially reviewed after a year to sort out any "gremlins".
The system would only work, she said, if MPs felt there was someone they "trusted completely".
"When members choose their proxy they will have to think responsibly about who they choose... they better make a wise choice".
Also addressing the committee, Ms Miller, a former Tory cabinet minister who chairs the women and equalities select committee, said the public was "familiar" with a system of proxy voting in national and local elections.
She said the current procedures "completely ignore the fact that men and women have children when they are here". "If any other organisation did that, I think we would be quite critical of them."