MP outlines online abuse she faces on a daily basis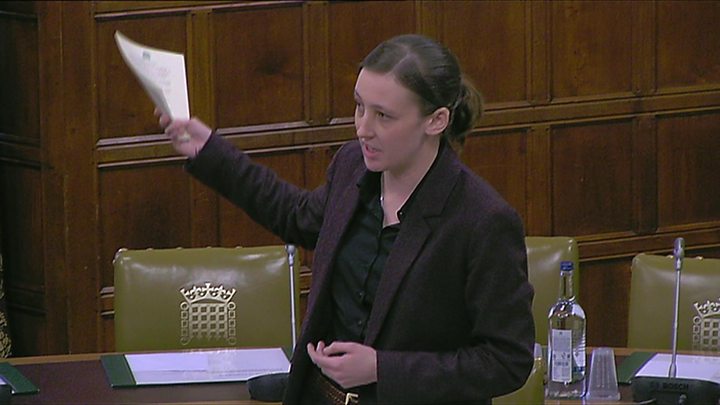 An MP has told how she was "physically pressed up" against a colleague accused of sexual misconduct in the House of Commons voting lobby.
The SNP's Mhairi Black revealed the incident as she outlined the full scale of misogynistic abuse she has faced since becoming an MP.
She said she is regularly called a "wee boy" and read out some of the worst insults aimed at her.
Ms Black spoke out as MPs called for misogyny to be treated as a hate crime.
During the Westminster Hall debate, the Paisley and Renfrewshire South MP said she felt uncomfortable reading the insults out but warned that some people felt "comfortable flinging these words around every day".
She said reflection was needed on what happens in Parliament, with the "full extent of abuse and danger" women face on a daily basis only now beginning to be realised.
"Only a few weeks ago I was physically pressed up against a Member (of Parliament) in the voting lobby who is accused of sexual misconduct, because there's so little room.
"Now, I don't think that's normal and I think it's fair to say that's something maybe that we should be looking at - something we should be talking about - because I'm blessed in that I have the same right and influence as any other elected man in this place, but what about all the female staff in here who don't?"
Ms Black explained how abuse online includes her regularly being told she wears her dad's suits - adding her and her pals "have a laugh" about this level of insult.
But she said she struggled to see any joke in the systematic homophobic, sexist, insulting and obscene abuse she has received.
"I could soften some of this ... but the reality is there is no softening when you're targeted with these words and you're left reading them on my screen every day, day in, day out... there is no softening just how sexualised and misogynistic the abuse is."
Ms Black added: "I've been assured multiple times that I don't have to worry because I am so ugly that no-one would want to rape me. All of these insults have been tailored to me because I am a woman."
The debate was sparked by Labour's Melanie Onn, who urged the government to formally extend the current five strands of centrally monitored hate crime to include misogyny, and provide for appropriate reflective sentencing.
She said the topic had provoked a backlash of "vile fury" that she was a man hater, had no sense of humour and should learn to take a compliment.
"Today's society is awash with misogynistic acts such as groping, sexual comments, upskirting, revenge porn, sexual remarks, leering, stalking, and as the nature of harassment changes so must the laws which govern it because there are currently too many incidents not meeting the criteria for assault, discrimination or public order offences."
She said: "If the statistics are anything to go by, nearly every woman will have a story of deliberately being made to feel uncomfortable or intimidated, or of being touched or the object of someone's unwanted attentions, at the very least, and 90% of women in the UK experience street harassment before they are 17.
"Because of that, 71% of women have done something to guard themselves against the threat of harassment, such as changing their route to work or avoiding parks. It is dreadful that women have to mould their lives around avoiding threatening situations. If street harassment, abuse and continued sex discrimination have no place in our society, let us have laws that fully and properly reflect that."
Misandry as well?
Stella Creasy, Labour MP for Walthamstow, said: "The other night, when I left Parliament I was followed down the street by a young man who would not take no for an answer - he kept trying to put his arms around me and touch me.
"Sadly, that is a day-to-day experience for too many women in our society. The trouble is that women are taught to minimise that behaviour - to brush it off, to somehow find a way of avoiding it, to feel that perhaps they should not be out on the streets late at night or that perhaps they should scream.
"We should be very clear that this is #NotAllMen. What is so powerful about recognising misogyny as a hate crime is identifying that that is not normal human behaviour. It is not about men and women flirting with each other; it is not about men and women being able to banter with each other; it is not about men and women being able to ask each other out.
"Perhaps they exist in our society, but I have yet to meet a woman who went out with a man who followed her down the street and tried to put his hands on her bottom."
Conservative MP Philip Davies asked whether misandry should also be a hate crime in exactly the same way, adding: "If she doesn't, could she explain why she thinks there should be one rule for one and one rule for the other?"
Ms Onn replied that he had the opportunity to raise that issue in parliament, but added "it does not form part of my suggestions today, which are focused on misogyny - there is a power imbalance in society that disproportionately affects women negatively, so I think misogyny should be an exclusive strand of hate crime".
Answering the debate for the government, Home Office Minister Victoria Atkins said hate crime currently covers offences that target race, religion, sexual orientation, disability and transgender identity, but a "fundamental aspect of the legislation is that these motivations can be proven and demonstrate the hate element."
She added: "At the moment we don't have clear evidence to show the extent to which the range of crimes committed against women and girls are specifically motivated by misogyny - that's the dislike, of contempt for, or ingrained prejudice against women."