David Cameron faces lobbying ban in new commercial roles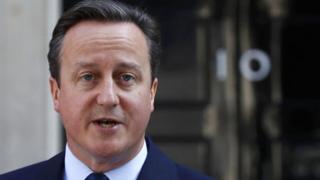 David Cameron has been told he cannot lobby ministers as a condition of him taking on a number of commercial roles.
The former prime minister has become a paid consultant to life-sciences firm Illumina and vice-chairman of a new UK-China investment fund among other jobs.
The appointments watchdog approved the roles but applied a lobbying ban until July, two years after he left office.
It also said Mr Cameron could not use privileged information from his time in government to benefit the firms.
Mr Cameron, who was prime minister for just over six years before quitting after the EU referendum in 2016, sought the approval of the Advisory Committee of Business Appointments before taking on the roles.
The watchdog's response, which has been published, gives an insight into the ex-PM's growing portfolio career of paid and unpaid roles - straddling both the private and charitable sectors.
Mr Cameron has taken on the following roles since October 2016, a month after he quit as an MP.
Consultant and chairman of Illumina's international board (announced in February 2018)
Vice-chairman, UK-China Fund (December 2017)
Board member, ONE, a development organisation (December 2017)
Consultant and brand ambassador, First Data Corporation (October 2017)
Member of Global Board of Advisers of the Council in Foreign Relations (May 2017)
Chairman, International Growth Centre's Commission on Growth in Fragile States (March 2017)
President, Alzheimer's Research UK (January 2017)
Chairman, National Citizen Service Patrons (October 2016)
Public speaker, Washington Speakers Bureau (December 2016)
Mr Cameron will advise Illumina, a fast-growing US genomics firm which specialises in research into genetic health conditions, on its international expansion and engagement with foreign governments.
Illumina has a contract to perform genome sequencing for the UK government as part of the Department of Health's pioneering 100,000 Genomics Project.
Mr Cameron said that although his new role would involve some "very limited" contact with ministers, this would not relate to the DoH contract and he would not lobby government on behalf of the firm.
The ex-prime minister said that while he had attended meetings on the Genome Project while in No 10, he had not, to his knowledge, had any direct meetings with Illumina during his time as PM.
Chinese dialogue
The watchdog cleared Mr Cameron - whose son Ivan was born with a rare brain disorder and died aged six in 2009 - to take up the role but said he should not approach ministers or officials to discuss issues relating to genomics unless invited to do so by the government.
He should, it added, "not become personally involved in lobbying the UK government on behalf of Illumina or make use of his contacts in government to influence policy or secure business on their behalf".
The same restrictions have also been placed on his role as vice-chairman of a new investment fund seeking to exploit opportunities for Chinese-British co-operation in technology, healthcare, energy and manufacturing.
As part of the role, the ex-PM said he would "if and when necessary" facilitate contacts between the UK and Chinese governments in order to support British and Chinese investment in each other's markets.
The watchdog said he was allowed to talk to ministers about "the terms on which he may facilitate dialogue" between London and Beijing but he could not actually do so without the consent of the UK government.
'Revolving door'
Mr Cameron met China's President Xi Jinping during a visit to the country in January ahead of the launch of the fund. As PM, he hosted President Xi during a state visit to the UK in 2015.
The two-year lobbying ban applies to all ex-ministers after they leave office.
The watchdog has said it strikes the right balance between allowing senior political figures to continue in public life or start a new career but without any "cause for any suspicion of impropriety".
But critics say it is not sufficient to stop a "revolving door" between government and big business.
Mr Cameron, who is currently writing his memoirs, has kept a low political profile since leaving power, spending much of his time on the foreign lecture circuit.